Trump says he was eating a "beautiful" piece of cake when he decided to bomb Syria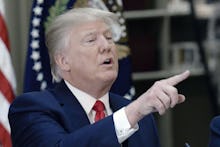 Donald Trump was sitting at dinner in his Mar-a-Lago home, eating "the most beautiful piece of chocolate cake you've ever seen" when he decided to send 59 Tomahawk missiles raining down on a Syrian airbase last Thursday.
In an interview with Fox Business Network, Trump described the scene that unfolded when he informed visiting Chinese President Xi Jinping that he had just launched a retaliatory attack against Syrian government forces.
At one point during the interview, Trump mistakenly proclaims that he informed Xi that the U.S. had just launched '59 missiles ... heading to Iraq," before Fox Business anchor Maria Bartiromo gently corrects him: "Heading to Syria."
"Yes, heading toward Syria," Trump replies.
Trump explains that he didn't want Xi — a soft ally of Syrian President Bashar Assad, who had spent a full day in talks with Trump — to leave dinner without knowledge of the missile strike.
After he finished delivering the news, Trump claims the Chinese president paused for a full ten seconds before asking his interpreter to repeat himself.
"I didn't think that was a good sign," the president said.
But according to Trump's telling, Xi eventually gave tacit approval of the decision to launch the strike, which came as a response to the Assad regime's use of sarin gas on Syrian civilians.
"And he said to me, 'Anybody that uses gases ... anybody that was so brutal and uses gases to do that to young children and babies, it's OK' ... He was OK with it," Trump said.