"World's hottest math teacher" Pietro Boselli responds to criticism of racism in new video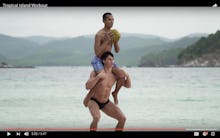 Pietro Boselli, the Italian math-teacher-slash-model who rose to fame in 2015 after being dubbed the "world's hottest math teacher," found himself in hot water earlier this week after posting what he titled a "tropical workout video" to his Facebook page.
In the video, Boselli, who has modeled for the likes of Armani, Moschino and Dsquared2, is seen prowling the beaches of the Philippines. "I need to find something I can actually lift repeatedly for exercise," Boselli says, before spotting a man in the distance. "That Filipino man looks ideal!"
He slowly approaches the seemingly unsuspecting man (who, it turns out, is Boselli's Filipino agent, Danel). "But I need to be very careful, approach slowly," he says. "Because he can get scared and start running."
Dozens of netizens took to the comments section to voice concerns over the stereotypical depiction of a Filipino man as weak, with many saying Boselli objectified the unnamed man by referring to him as "that" and "my weight."
"I get that this video is a joke... but to be honest, this is the reason why Western culture demeans Asians (especially Asian males) in media," one such commenter wrote. "As a Filipino man who can easily bench twice his body weight, I'd rather see him do a video working out using his surroundings instead of treating his friend like weight."
"I can understand Boselli only wants to goof around and may harbor no malice," another wrote. "But as a model in the public eye, he should know how to execute his concepts. And the execution is tasteless, offensive, and beyond the pale."
Others defended the video, saying it was just in good fun.
"I'm Filipino and I think that I can speak for most Filipinos out there that this was not racist at all and I'm sure the guy had fun filming this video," one commenter wrote. "Stop trying to make everything about race because there are far more important issues out there that need that type of attention."
But comments like these received backlash of their own, with someone replying that "Filipino people not seeing anything wrong with this video is one of the reasons why Filipinos get treated like shit even in their own country."
"The comments calling out the racism in the video are valid but you refuse to acknowledge those criticisms and defend him instead," the commenter continued. "We Filipinos have a lot of self-reflecting to do regarding our internalized oppression."
Now, Boselli is addressing the controversy.
"It's very upsetting, Boselli said in an interview with Mic. "I was surprised by this negative reaction because clearly that wasn't what I thought at all. We thought, let's just do a funny, viral video. The intent was simply to post a lighthearted video about my obsession with working out. There was no harm intended toward anyone."
Boselli says he found more commenters defending the video than bashing it. "Most of the people defending the video are actually from the Philippines. I have a very good relationship with the Filipino people. I couldn't be more far removed from racism toward the Philippines. It almost offends me that anyone could think that about me."
Asked if he'll think twice when posting future videos, Boselli is unsure. "I've always been very careful in my videos not to offend anyone and in this case, I guess I just couldn't see. When you have exposure like I do, there's always going to be some people criticizing and I don't think I should stop being myself because of that — especially when no harm is intended. It's almost like people who are accusing me of racism are those keeping racism alive. I think there are far more relevant and important problems to be discussed in this world than finding racism where there isn't."
Watch the full video below: