6 religious and kid-friendly Easter movies to watch on Netflix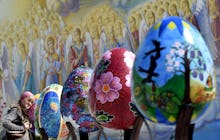 Easter Sunday can be celebrated in a variety of ways: attending a religious service, painting eggs, brunching with family and friends or an early-morning hunt for candy with little ones. If you have a more relaxing afternoon in mind, Netflix has a lineup of entertainment for you. There's something for everyone, with stories from the Bible and kid-friendly animated films available for streaming. Read on to decide the lineup for custom-created Easter Sunday entertainment. 
1. The Prince of Egypt 
This animated feature adapts the Book of Exodus, following the life of Moses as he fulfills his destiny to lead the children of Israel out of Egypt. With songs written by Wicked composer Stephen Schwartz, the movie's starry cast includes voice acting from Helen Mirren, Patrick Stewart, Steve Martin and Martin Short. 
2. Son of God 
Adapted from the 2013 History Channel miniseries The Bible, this film retells the life of Jesus through selected scenes from the miniseries along with previously unaired footage that depicts the most famous and well-known moments from Jesus' life. While it's not quite as bloody as The Passion of the Christ, the film's violence was noted in reviews. 
3. Who Framed Roger Rabbit?
If religious films aren't your forte, but you still want some festive viewing, this animated noir movie, which mixes live-action footage with animated sequences, features the holiday's mascot as the title character who is accused of murdering a wealthy man. Bob Hoskins stars as the private detective working to clear Roger's name. 
4. The Bible
If you're in it to win it, this nearly 10-hour miniseries is the one for you. The marathon movie received three Emmy nominations for its presentation of the Bible as a drama rather than a documentary. 
5. Winnie the Pooh: Springtime With Roo 
This kid-friendly film featuring A.A. Milne's beloved characters follows Roo's reaction when Rabbit doesn't want to celebrate Easter, being more interested in spring cleaning. 
6. Joseph King of Dreams 
If a family singalong is more your style, this Dreamworks movie is just the ticket. Setting the story of Joseph from the Book of Genesis to music, the film follows Joseph's journey through life as he puts his ability to interpret dreams to use while surviving a troubled relationship with his brothers. 
Mic has ongoing Netflix coverage. Please follow our main Netflix hub here.