Carter Page: How the Trump adviser fits into the FBI's Russia investigation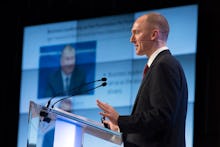 The Washington Post reported Tuesday that the FBI obtained a secret warrant under the Foreign Intelligence Surveillance Act in summer 2016 to monitor Carter Page, an adviser of then-candidate Donald Trump. 
Per the Washington Post:
The FBI and the Justice Department obtained the warrant targeting Carter Page's communications after convincing a Foreign Intelligence Surveillance Court judge that there was probable cause to believe Page was acting as an agent of a foreign power, in this case Russia, according to the officials.
Among the most remarkable details of the report is that Page was the only American to be "targeted" by such a warrant in connection with the investigation into the Trump campaign's possible ties to Russia.
Page calls FISA warrant "encouraging"
The embattled Page's strategy has been to meet the reporting head-on and frame the warrant as proof of his being targeted for political purposes. He has long insisted that any allegations of collusion between him and Russia are completely without merit.
In March, Page publicly requested to testify in the ongoing Russia investigation — and he may soon get his wish via the House Intelligence Committee. Ranking member Rep. Adam Schiff (D-Calif.) has said Page will, in fact, "speak before the panel 'at the appropriate time,'" according to Politico.
In a risky strategy, Page can be expected to use the explosive reporting about the FISA warrant as ammunition in his defense. He told Politico on Tuesday:
[The warrant] shows how low the Clinton/Obama regime went to destroy our democracy and suppress dissidents who did not fully support their failed foreign policy. It will be interesting to see what comes out when the unjustified basis for those FISA requests are more fully disclosed over time, including, potentially, the Dodgy Dossier — a document that clearly is false evidence, which could represent yet another potential crime.
Page raised eyebrows March 3 during an appearance on MSNBC's All in with Chris Hayes, where for the first time he admitted to meeting with Russian ambassador Sergey Kislyak at a conference affiliated with the 2016 Republican National Convention.
Both Page and J.D. Gordon, another named participant in the meeting, maintain they did nothing wrong. Gordon characterized the meeting as "not unusual" and "an informal conversation," according to NBC.
Page has a complicated history with Russia
In a bizarre 2013 incident, Russian intelligence agents tried to recruit Page as a spy after deciding he was a greedy "idiot" who could be useful to the Kremlin.
The conversation about Page, who was originally identified as "Male-1," was intercepted by U.S. intelligence and revealed in a 2015 court filing.
The agents talked about Page sending emails in Russian to "practice" the language. SVR officer Victor Podobnyy quipped that Page visited Moscow more often than he did.
Russian intelligence was apparently planning to dupe Page. "You get the documents from him and tell him to go fuck himself," read a transcript of a conversation between Podobnyy and Igor Sporyshev, one of the other men caught in the spy ring.
Page claimed his interactions with the individuals were energy-related, contained no "sensitive" information and that he had no interest in being a spy for Russia, according to BuzzFeed.
It is not disputed that Page was an energy consultant at the time. He was also not accused of any wrongdoing following the Russian spy ring's dismantling in 2015.
Despite allegations contained in an uncorroborated dossier, which Page referred to as the "Dodgy Dossier," BuzzFeed reported that "Page denied playing a role in the Kremlin's attempt to undermine the [U.S.] election."