'Overwatch' Uprising Event Checklist: How to make sure you get all the items you want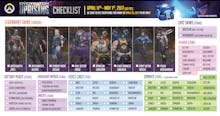 The new Overwatch event Uprising has officially dropped. Much like in previous events, including Year of the Rooster and the Winter Wonderland event, Uprising promises a bevy of victory poses, skins, emotes and sprays for players to collect. There's a lot to grab, so it's understandable if you're a little overwhelmed by what to hope for in your loot boxes or what to spend your coins on.
Thankfully, the internet has provided a checklist for anyone who's looking to make the most of the next three weeks.
Overwatch Uprising event checklist: Handy image helps you trace the rewards you're looking for in one place
If you're looking to see everything you can get from the Uprising event in one place, Reddit user IzzePizze made a checklist with all the skins, icons, voice lines and more for ease of viewing.
The sprays are especially worth noting. Though you can purchase the bulk of them with your coins, six of them — the ones with the yellow checkboxes — will require you to get their associated achievements before unlocking them.
IzzePizze uploaded three versions of this list: a general listing, a letter-sized one designed for printing and a downloadable PDF on which you can click the checkboxes. It's a great way to keep track of what items you've gotten and what items you're still missing during the event.
April 13, 2017, 12:18 p.m.: This story has been updated.
More Overwatch news and updates
For more on Overwatch, check out the rest of what Mic has to offer. Here is a full explanation of the different types of health in Overwatch, the latest rumor of a Terry Crews-voiced Overwatch character, an update on that Mei ice wall exploit, a hilarious video of a play of the game involving the jump pad on Oasis, a roundup of the best Overwatch plays of the week, our definitive ranking of every Overwatch hero and a giant Overwatch FAQ for beginners.