Alabama senate votes to give a megachurch its own police force, a historic first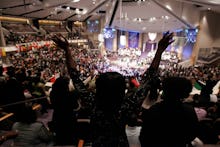 "Blessed are the peacemakers" it says in the Book of Matthew. But when Jesus uttered those words during the Sermon on the Mount, he likely wasn't talking about armed guards.
On Wednesday, the Alabama State Senate voted to let Briarwood Presbyterian Church have its own internal police department under the employ of the church. If passed in the state house next week, it would be the first time in American history that a religious institution was granted the right to maintain its own armed police force.
Briarwood is no small congregation. The megachurch, which sits on the edge of Birmingham, Alabama, has over 4,000 congregants and runs a K-12 school and seminary with 2,000 students and teachers. There are towns and colleges smaller than Briarwood that employ their own police departments.
Instead of leaning on the current need for a police force, church officials have repeatedly invoked the nationwide spate of mass shootings as reasons to keep armed officers on hand.
But the issue for many isn't whether or not the church needs security, but the question of whether a police force should be run by a religious institution — especially given that the pastor who would oversee this force has been known to go on rants about such things as the legalization of same-sex marriage, saying "nations who knowingly break God's law will inevitably be broken by God's law."
Even if the bill doesn't pass, it's not the only Alabama bill that would deputize the church to take matters into its own hands. 
Another bill to hit the senate is the Alabama Church Protection Act, which would allow churches to enlist armed members of the congregation as security guards and give them legal protections if a shooting took place. 
Licensed or not, the church insists on taking matters into its own hands.