Kendrick Lamar and U2's "XXX" comes from a history of rap-rock duets. They're not all bad.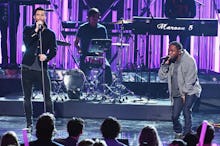 At this stage in the game, Kendrick Lamar could get likely convince any musician of any genre, any age, any country, to collaborate with him. For his last album, To Pimp a Butterfly, he chose some greats — Robert Glasper, Pharrell, Snoop Dogg, Ron Isley, George Clinton. For Damn., Lamar's highly anticipated fourth studio album, he chose Rihanna and U2. 
The face that a large swatch of the internet made on hearing the name of that iTunes library-cluttering, Irish stadium rock outfit was about as blank and bitter as the Lamar's making on the cover of Damn. "Will Kendrick Lamar and U2's 'XXX' be the most self-righteous song of all time?" Tom Breihan of Stereogum asked. It's a fair question, considering the miasmic smarm that follows U2's Bono through his various save the world, save Africa speaking engagements, and Lamar's Christ complex.
However, no one should jump to conclusions about the song's quality until it's out in the world. Rap and rock crossovers have a spotted history, but even some of the improbable collaborations have produced some surprisingly listenable results. Additionally, in hip-hop's infancy, rock musicians served as champions for the form at a time when many audiences were hesitant to admit rap was musical. 
Rap rock had its own musical identity long before POD and Limp Bizkit turned that combination of words into a musical farce. There's a far deeper history than most likely realize.
1. Blondie, "Rapture"
In the early '80s, the rock and hip-hop scenes were extremely stratified, and it took some time before artists began cross genres and openly collaborate. Blondie's name-drop of Fab 5 Five Freddy and Grandmaster Flash marked one of the first points of contact between the genres. In 1981, "Rapture" became the first song featuring a rap to top the charts.
2. Run DMC and Aerosmith, "Walk This Way"
After Blondie and the Clash, another early rap proponent, helped warm American audiences to the idea of blurring the lines between rap and rock, Run DMC and Aerosmith took audiences all the way there with their "Walk This Way" cover. As eminently corny as the song sounds now, it was a landmark in the growing rap rock subgenre and the first hip-hop song to break the top 10 on the Billboard 100.
3. Anthrax featuring Public Enemy, "Bring the Noise"
Public Enemy and Anthrax's "Bring the Noise" works because the two shared an attitude and a common cause — shouting down authority and punishing the eardrums of listeners not prepared for that level of rage. It contained a brief history of hip-hop and its rock experimentation, name-dropping LL Cool J's "Rock the Bells," another important crossover song: 
"Run-DMC first said a deejay could be a band/ Stand on its feet, get you out your seat/ Beat is for Eric B. and LL as well, hell/ Wax is for Anthrax, still it can rock bells."
4. Jay Z and Linkin Park, Collision Course
The half-baked Linkin Park collaborative EP Collision Course was definitely one of the instances in Jay Z's career when he was more businessman than a business, man. As the above examples have illustrated in part, there's serious money to be made in stacking fan bases to attack the charts from two angles. It doesn't always make for good art though. No one needed Collision Course. 
5. Gorillaz and Del Tha Funky Homosapien, "Clint Eastwood"
Damon Albarn of Blur started Gorillaz to mess with synths and offer an odd critique on mindless MTV culture. Yet it gradually became one of the best ways for young alternative audiences to discover under-the-radar rap talent, such as MF Doom, Del Tha Funky Homosapien, De La Soul and the Pharcyde, to name a few. If "Clint Eastwood" never became the massive hit that it was, Gorillaz' career trajectory would have taken an entirely different course.
6. Kanye West and Chris Martin, "Homecoming"
Perhaps the closest analogue to Lamar's upcoming U2 mashup — the biggest rapper in the game collaborating with a rep from one of the smoothest rock groups in the land, Coldplay — "Homecoming" made for a touching ending to West's Graduation album. It followed a similar collaboration between Jay Z and Coldplay, "Lost+." Both brought out some of the more sensitive, emotionally resonant aspects of both artists' music. It could do the same for Lamar on Friday.
7. Kanye West, Rihanna and Paul McCartney, "FourFiveSeconds"
For such a simple song, there are an exorbitant number of hands that earned credits for helping to craft it. Legendary producer Mike Dean, Dirty Projectors' mastermind Dave Longstreth, Ty Dolla Sign and Dallas Austin all appear in the liner notes, alongside the three stars at the helm. It's a solid pop-rock song though, and if Paul McCartney can make his cross into radio rap work, Bono shouldn't have a terrible time.
8. Maroon 5 featuring Kendrick Lamar, "Don't Wanna Know"
The money better have been really good, because otherwise there's no reason for this song to exist. It's way more of a pop jam than anything traditionally "rock," but it feels phoned in on just about everyone's end — Lamar's, Adam Levine's and producer Benny Blanco's. Levine can sing a hook fitting for a rap collaboration; he did it on Lupe Fiasco's "Superstar," still one of the finest moments in Fiasco's boom and bust career.