Chance the Rapper is throwing himself a birthday party to raise money for his charity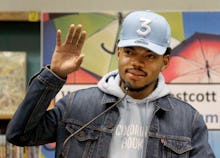 On April 16, Chance the Rapper will turn 24 years old, which should make just about anyone at any age feel ridiculously old. The amount that Chance has been able to accomplish in just over two decades on the planet — for his city, for independent music — is astounding. And in typical Chance fashion, he'll be using his 24th birthday party to make even more waves.
Wednesday, Chance the Rapper announced he'll be throwing himself a birthday show in Chicago's Studio Paris featuring "special guests." He's calling it Chance the Birthday and all proceeds of the event will benefit his Social Works charity foundation — the same charity he's been using to funnel money into the Chicago school system.
To date, Chance the Rapper has helped raised over two million dollars for Chicago's public school system. He launched his charity drive in March with an initial donation of $1,100,000, promising to donate an additional $10,000 for every $100,000 raised through his Social Works program. In April, he announced the delivery of an additional $10,000 to support 12 schools along with the Chicago Bulls' pledge to throw in an additional million.
The sum raised so far only leaves a small dent in the $215 million budget gap Chicago public schools are currently suffering. But it's has a more intangible effect on the city's young people. 
"Chance has shown Chicago students not only the heights they can achieve but the generosity they can share," Chicago school district spokesperson Emily Bittner said in a statement, as reported by CNN. "We also appreciate his strong advocacy for Chicago schoolchildren, who suffer under the state's discriminatory system of funding, which Gov. Rauner continues to perpetuate."
His birthday party will be yet another opportunity to eat away at the budget deficit and create yet another opportunity to show Chicago's youth that the city's culture is alive and well and hungry for more influencers like young Chano from 79th.
Mic has ongoing music coverage. Follow our main music hub here.