'Rolling Stone' has settled its UVA sexual assault story suit with Nicole Eramo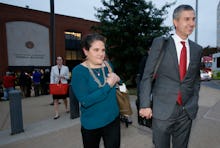 Rolling Stone has settled its case with Nicole Eramo, the University of Virginia administrator featured in the magazine's now-retracted 2014 story about an alleged campus sexual assault. 
According to the Washington Post, the two parties reached a "confidential settlement" on Tuesday, which Rolling Stone called an "amicable resolution" to a years-long lawsuit. 
"We are delighted that this dispute is now behind us, as it allows Nicole to move on and focus on doing what she does best, which is supporting victims of sexual assault," her legal counsel said in a statement. 
Eramo sued the publication shortly after investigations by police and the Post revealed the story, "A Rape on Campus," had major factual discrepancies that eventually led to Rolling Stone retracting it altogether. In the suit, Eramo — who oversaw campus rape cases at the time the piece came out — claimed reporter Sabrina Rubin Erdely had cast her unfairly. 
A jury agreed in November, handing down a guilty verdict to both Erdely and Rolling Stone. The jury's verdict came with a $3 million award to Eramo — a hefty sum, but still shy of the $7.5 million she'd originally requested.
Rolling Stone appealed the ruling, but Tuesday's news suggests the outlet is ready to put the case behind them. Unfortunately for the magazine, it has a much larger suit ahead of them: Rolling Stone has yet to settle its legal squabble with Phi Kappa Psi, the fraternity implicated in Erdely's piece.
The fraternity is seeking $25 million in damages from the magazine.