Rihanna's 6 best features: From Drake to Calvin Harris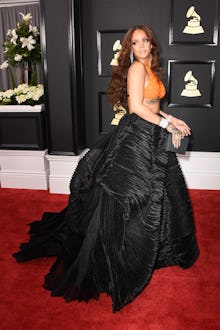 Rihanna is the queen of just about everything. 
She owns awards shows from her seat. She gifted fans with her best album to date with Anti, which we're still upset was snubbed for album of the year. She's also been featured on countless songs over the course of her career. 
This bad gal has worked with countless artists. From Drake to Coldplay to Calvin Harris, the "We Found Love" singer is always willing to lend her vocals. Her latest feature is in Kendrick Lamar's new album Damn. on a song called "Loyalty," which could be another smash. 
From Drake to Calvin Harris, here are the singer's six best collaborations with other artists: 
1. "Run This Town" – Jay Z featuring Rihanna and Kanye West
Jay Z brought together Kanye West and Rihanna for the incredible anthem that is "Run This Town," a track off of The Blueprint 3. Rihanna sings the infectious hook on the song that makes it so catchy and memorable. 
2. "This is What You Came For" – Calvin Harris featuring Rihanna
This is truly what we came for. Rihanna teamed up with Calvin Harris again for their second pairing after her Billboard Hot 100 No. 1 smash hit "We Found Love." "This Is What You Came For" was another success for the duo, which reached No. 3, proving these two are a match made in music heaven. 
3. "All Of The Lights" – Kanye West featuring Kid Cudi and Rihanna
Rihanna and Kanye are a pairing that just makes total sense. Kanye brought in Rihanna for "All Of The Lights" to help sing the chorus. In addition to her, the song also features a slew of other artists including everyone from Elton John to Fergie. 
4. "Live Your Life" – T.I. featuring Rihanna
"Live Your Life" was another No. 1 song for Rihanna, thanks to her feature with rapper T.I. She once again gifted her vocals to the chorus for the song, which went on to be an inescapable hit for both artists. The song also happens to be one of T.I.'s two No. 1 hits on the Billboard Hot 100. 
5. "Take Care" – Drake featuring Rihanna
Rihanna and Drake coming together is another natural pairing. The two joined forces for Drake title track "Take Care," which reached No. 7 on the Billboard Top 100 charts. While they may not be together at the moment, they'll always have their duets. 
6. "Love The Way You Lie" – Eminem featuring Rihanna
Another feature, another No. 1 song. 
Rihanna and Eminem's first pairing together hit the top spot on the Billboard Hot 100 and went on to become one of Eminem's biggest songs ever. The two teamed up again for "The Monster," which also went No. 1. That Rihanna reign just won't let up.
Mic has ongoing music coverage. Please follow our main music hub here.