Phone services are finally warning you when spammers are calling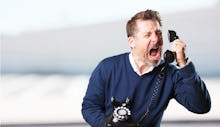 I didn't switch to T-Mobile because of its pink ads claiming great network coverage. I switched because I had AT&T and, eventually, I decided that if I was going to have crappy service, I was going to have crappy service for half the price (or less).
On Wednesday, however, I came across another little perk of my new service. The epiphany came because of an incoming call from a robot telemarketer named "Heather" who was trying to sell me on some dicey-sounding survey. 
Here's the thing: I didn't even have to listen to Heather's monotonous robot voice to know exactly what was going on. When the phone buzzed, the caller ID didn't show some unknown number. Instead, it was this:
As it turns out, T-Mobile recently rolled out a feature that warns you when your incoming calls are from telemarketers or likely scammers. 
That's right, world: You don't need to get all the way to those dang robots to know you can ignore that call. The caller ID says "Scam Likely." I can also opt to block those scam calls entirely.
All of it was made possible by Federal Communications Commission rules that require telecom companies to let their users block certain calls. If the hubbub on T-Mobile user boards is any indication, the service just started working a couple of days ago.
My epiphany, though, wasn't exactly on the money. Turns out that other mobile service providers are launching similar services. One of them is my former provider, AT&T, which launched its version in December.