'Splatoon 2' Release Date: Nintendo Direct for April 2017 brings new details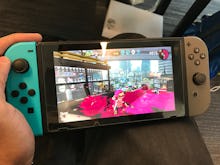 The Splatoon 2 release date will bring Nintendo's first party shooter game to the Nintendo Switch. Today's announcement finally revealed the game's release date.
Splatoon 2 will launch for Nintendo Switch on July 21. New amiibos for the game will launch on the same day.
The game also adds a new mode called Salmon Run. In the new mode, you and three other teammates fight off hordes of fish and collect "power eggs." You'll also need to collect special golden eggs to a "containment unit" to complete the match and earn rewards.
Splatoon 2 release date: What else to expect
Splatoon will be one of a few first-party Nintendo games to hit the Switch in 2017, including Mario Kart 8 Deluxe and Zelda: Breath of the Wild. The original Splatoon launched in 2015, but for the 2017 sequel Nintendo is adding a few new weapons and features. For one, players will now be able to dual-wield weapons instead of using just one hand. In-game characters are also able to perform a new dodge roll to move out the way of enemy paint.
Splatoon 2 also introduces local multiplayer to the series. Unlike the stationary Wii U, the portable Switch can be brought on-the-go and linked up with other Switches, allowing you to engage in battle with friends in the same room or around the world.
Nintendo's open beta for Splatoon 2 offered fans a good idea of what to expect from the online shooter this summer. Our impressions of the Splatoon testfire brought us back to days of playing the paint shooter on Wii U. Though Nintendo's site notes a few differences in the online play department from the Wii U experience that we didn't see in Splatoon's open beta.
Splatoon for the Switch will not only offer one of the first online experiences for the console, but will give players a glimpse at what's to come. Nintendo's companion app for mobile will support the game. The online service needed to play Splatoon 2 over the internet will be temporarily free for those with Nintendo accounts before the company forces players to pay up this fall.
Check out more Splatoon news and coverage
Read more of our Splatoon news and coverage, including our impressions of the open beta back in March and at the Nintendo Switch event in January. Find out everything we learned about the game back in January. If you're looking for more information about the April 2017 Nintendo Direct, check out the proceedings here. Or if you want to check out general Nintendo Switch news see reports of screen defects in the Switch and what you can expect if you're trying to buy one.