'Fantastic Beasts' Sequel Cast: Jude Law to go up against Johnny Depp as young Dumbledore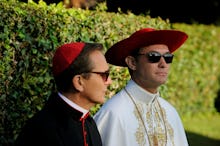 Hey Jude, you are so young. Take an old role and make it younger. 
Jude Law is moving on from HBO's The Young Pope to another role that will bask in his youthfulness — because being a 44-year-old man apparently constitutes as young in Hollywood. According to a report from Variety, Law will play a young Albus Dumbledore in the Fantastic Beasts and Where To Find Them sequel. 
Dumbledore's involvement in the Fantastic Beasts sequel makes sense, considering the first film in the Harry Potter spinoff series saw Johnny Depp as the dark wizard Gellert Grindelwald. Grindelwald isn't just an arch-nemesis to Dumbledore in the Harry Potter canon, but J.K. Rowling previously revealed that Dumbledore had a romantic interest in Grindelwald — which made his heel turn all the more excruciating. 
"That added to his horror when Grindelwald showed himself to be what he was," Rowling previously explained. "To an extent, do we say it excused Dumbledore a little more because falling in love can blind us to an extent? But, he met someone as brilliant as he was, and rather like Bellatrix, he was very drawn to this brilliant person, and horribly, terribly let down by him."  
Which brings us to Law, most recently seen as a pope, who happened to be quite young in papal terms, in an HBO series. 
Law's The Young Pope became one of 2017's earliest memes, which essentially boiled down to how absurd the concept for the show — a pope, but young! — was. Naturally, with Law's casting as a young Dumbledore, the Papal memes followed suit, and God bless them. 
The Fantastic Beasts sequel is slated for release in November 2018.  
Mic has ongoing Harry Potter coverage. Follow our main Harry Potter hub here.