17 history-making moments in pop culture for trans acceptance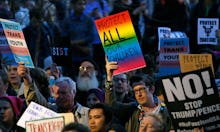 Visibility for the transgender community has never been greater in America, but the country's culture has not always accepted people coming out. Transgender people are seen and welcomed in a great deal of entertainment, sports and politics in 2017, but there was a time when they were not featured in popular culture. 
Today's representation was achieved through the work of people in the past who, despite their devotion, are not the household names that today's icons are. Before YouTube, Gifs and Twitter, these pioneers were breaking new ground. 
Here are some of the key moments and players in popular culture in the fight for transgender rights.
1. Renée Richards, 1976
Awareness of trans people grew when Renée Richards, a transgender athlete, sued to play at the US Open as a woman. Richards had played the US Open as a man several times and had gender reassignment surgery in 1975. While competing in tennis tournaments as a woman, people objected and she sued United States Tennis Association for gender discrimination — with the support of beloved tennis champion Billie Jean King. Her life was the subject of the 2011 film Renée . 
2. Paris is Burning, 1991
The documentary Paris is Burning was released in 1991, depicting the lives of Latino, African-American, gay and transgender communities and drag ball competitions in New York. The critically acclaimed and award winning film introduced a larger culture to the communities. 
3. Boys Don't Cry wins acclaim and Oscar, 1999
Boys Don't Cry is a movie about the life of Brandon Teena, a transgender man who was beaten, raped and murdered in a violent hate crime. The film, which received critical acclaim, starred Hillary Swank as Brandon, earning the actress her first Academy Award. In her acceptance speech, Swank emphasized the importance of the film and mentioned Brandon Teena. 
4. Alexis Arquette, 2006
Alexis Arquette, a transgender activist and actress, appeared on The Surreal Life, a VH1 reality series about celebrities devoted to rebuilding on their careers. Known for playing a Boy George-inspired character in the Adam Sandler and Drew Barrymore comedy The Wedding Singer, among other roles. Arquette also was featured in the 2008 documentary Alexis Arquette: She's My Brother, which chronicled a period in her life during which she and her family adjusted to her transition. 
5. Candis Cayne on Dirty Sexy Money, 2007
Candis Cayne, a transgender woman, starred as the transgender character Carmelita on ABC's Dirty Sexy Money, from 2007 to 2008. Candis, who has also appeared on Nip/Tuck, Drop Dead Diva and Elementary, among other shows, has since spoken publicly about issues facing the transgender community including the "bathroom bill." 
6. Isis King on America's Next Top Model, 2008
In 2008, Isis King appeared on America's Next Top Model, breaking new ground as the first trans model on the series. Encouraged by Tyra Banks to audition, she placed 10th in the 11th cycle of the show. Top Model portrayed some of the contestants as being transphobic, but King herself said she had no idea those comments were being made to the camera. She also participated in cycle 17 of the show. King told the Washington Post that after that season, "People notice me, want to take pictures with me, tell me I'm an inspiration, so far I've been getting good feedback." King was the first transgender person to work with American Apparel, and her TV work also includes a guest spot on The Bold and the Beautiful, Strut and Shameless, among others. 
7. Chaz Bono, 2009
In another high-profile announcement, Chaz Bono, the child of Sonny Bono and Cher, shared that he would be transitioning from female to male. Bono has discussed his journey publicly, including the cost and risk involved. Cher said she had "a hard time" adjusting to the change, describing it as "a strange change for a mother to go through." Cher called the set of Ellen, sharing the pride she feels for Chaz, who was visibly emotional hearing his mother talk. 
Bono went on to compete on Dancing With the Stars, the first transgender contestant, a move Cher supported. 
8. Transform Me, 2010
Transform Me, a VH1 series, featured Laverne Cox, Jamie Clayton and Nina Poon responding to style emergencies in an ambulance. 
Michael Musto, a columnist for the Village Voice, told ABC, "The show is breaking new ground by presenting transgendered women as fierce and fabulous — if a little superficial. It's giving visibility to three transsexuals who are offered as wise and funny gurus."
9. Kye Allums, 2010
Off the runway, in 2010 basketball star Kye Allums was the first openly trans NCAA athlete: a transgender man playing on a women's basketball team. Allums told Time the decision was inspired by the need for comfort. "Playing on a sports team, you become very close. These girls were like my sisters and having them refer to me using female pronouns every single second of the day and not knowing how that made me feel, I couldn't keep playing like that." He left the team in 2011 and travels the country advocating for trans protection. He also starred in Cox's documentary The T Word.
10. Miss Universe, 2012
The Miss Universe competition began accepting trans contestants in 2012, after Jenna Talackova, a 23-year-old transgender woman who had undergone gender reassignment surgery at the age of 19, was disqualified from the Miss Universe Canada competition. The competition stated she "did not meet the requirements to compete despite having stated otherwise on her entry form." 
The competition, a joint venture by Donald Trump and NBC Universal, later reversed its decision and announced she could compete. "The Miss Universe Organization will allow Jenna Talackova to compete in the 2012 Miss Universe Canada pageant provided she meets the legal gender recognition requirements of Canada, and the standards established by other international competitions," Michael D. Cohen, Trump's executive vice president and special counsel, said in a statement announcing the change.
11. Laverne Cox breaks boundaries, 2013
Orange is the New Black star Laverne Cox, who joined the cast in 2013, was the first transgender person to appear on the cover of Time magazine in 2014 and, that same year, was the first transgender person to be nominated for an Emmy.
12. Transparent wins a Golden Globe, 2015
In 2015, the same year President Barack Obama became the first president to mention transgender people in his State of the Union address Transparent won the Golden Globe for best television comedy or musical and its star, Jeffrey Tambor, took home the award for best actor. Transparent's cast also included Alexandra Billings, who was the first openly transgender actor to play a transgender character on television in Romy and Michele: In the Beginning.
13. Caitlyn Jenner's Diane Sawyer interview and Vanity Fair cover, 2015
In a widely publicized move, Caitlyn Jenner appeared on the cover of Vanity Fair, discussing her transition from Bruce, the famous Olympic athlete, to Caitlyn. The transition, which was speculated by fans of the series Keeping Up With the Kardashians, both physical and emotional, was discussed with Diane Sawyer.
14. Becoming Us premiere, 2015
Becoming Us, a Freeform series about a teenager with a transgender parent, premiered in 2015. The show followed Ben Lehwald, a 17-year-old high school student, whose father was transitioning from male to female. 
15. Audrey Middleton on Big Brother, 2015
The reality TV show featured its first transgender competitor in 2015. Audrey Middleton revealed to other competitors on the first night of the series that she was a transgender woman. She was evicted on the 14th episode of the season.  
16. Jazz Jennings, 2017
YouTube personality Jazz Jennings is one of the youngest publicly documented people to be identified as transgender, having first been interviewed by Barbara Walters at the age of six. The author of Being Jazz: My Life as a (Transgender) Teen and star of star of TLC's documentary reality series I Am Jazz was also the inspiration for a doll. 
17. Zeke Smith on Survivor, 2017
In 2017, Zeke Smith, a contestant on Survivor: Game Changers, was outed as transgender by fellow contestant Jeff Varner in a move that outraged viewers of the popular TV show. Varner outing Smith was an attempt to turn the votes, but the move backfired on him. Smith's fellow tribe members rallied around him to show him support. And Smith had a powerful message after the shock wore off.
"I'm certainly not someone who should be a role model for anyone else, but maybe ... maybe this will lead to a greater good," Zeke said. 
Mic has ongoing transgender coverage. Please follow our main transgender hub.