Nancy Kerrigan tells ABC she had six miscarriages: "It's devastating."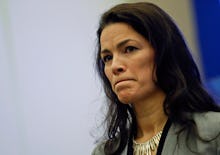 Miscarriages are common — around a million occur in the United States each year — but rarely are they discussed. 
On Good Morning America, former Olympic figure skater and current Dancing With the Stars contestant Nancy Kerrigan talked about the harrowing experience of losing six pregnancies in eight years — and how, despite the feelings of isolation, she managed to move forward.
"People have babies every day," Kerrigan told ABC's Abbie Boudreau. "This is such a natural thing.  Why would I keep losing a baby? What did I do?"
Matthew, Kerrigan's first child with her husband Jerry Solomon, was born in 1996. After that, she continued to get pregnant but kept miscarrying. She told Boudreau she "of course" blamed herself.
"It's devastating and it's so hard on your marriage," Kerrigan said. "You think, 'What's wrong with me?'"
Kerrigan eventually found success with IVF. She had her son, Brian, in 2005 and daughter, Nicole, in 2008. She told Boudreau it took her and Solomon a while to name Brian. "It was like being afraid to get attached," she explained.
An estimated 10% to 20% of all known pregnancies end in miscarriages, according to the Mayo Clinic. The true percentage is likely even higher, as many women will miscarry before they even know they're pregnant. While many women will lose pregnancies, miscarriage isn't talked about much, which makes a lonely personal tragedy all the more alienating. 
A 2015 study in Obstetrics and Gynecology found that Americans have widespread misconceptions about miscarriages, Time reported. Of the more than 1,000 people surveyed, most believed miscarriages occur in just 6% or fewer of pregnancies. 
That's why miscarriages can be so isolating, according to study author Dr. Zev Williams, director of the Program for Early and Recurrent Pregnancy Loss at Albert Einstein College of Medicine and Montefiore Health System.
"Most people think it's an incredibly rare event, so when it happens to them they feel very isolated and they will look to themselves and think they must have done something wrong," Williams told Time.
Kerrigan said it was hard to know how to go on — but she made it through.
"I don't know how you move forward," Kerrigan said. "I don't — it's sort of life, when you're faced with something unexpected you just do it."