Charlie Murphy: 7 of the comedian's greatest moments in film, stand-up and television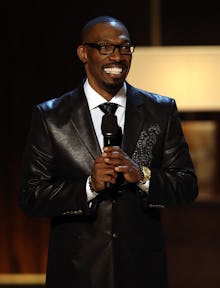 Charlie Murphy, one of the great comedic forces in The Chappelle Show's roster, older brother to Eddie, teller of perhaps the greatest Prince story of all time, has died at 57. TMZ reported the news Wednesday, confirming the death with Murphy's manager. Murphy was undergoing chemotherapy for leukemia.
Murphy took a bit longer to get his name into the limelight. But once he did, thanks in large part to his breakthrough recurring role on The Chappelle Show, he built a stellar repertoire of stand-ups, film and TV credits, including roles on Adult Swim's The Boondocks and Black Jesus. 
Known among his Facebook fans for his daily "Rise & Grind" motivational statuses, he posted his last one on Monday.
To celebrate the comedic legend, one Chris Rock described as the "funniest most real brothers of all time" in his Twitter tribute, take a scroll down the following list of some of his best stand-ups, TV moments and "True Hollywood Stories" sketches.
1.  The Chappelle Show — "True Hollywood Stories: Rick James"
Being brother to one of the most sought-after comedic talents in the '80s offered Murphy a window to observe some of Hollywood's wildest characters at their most bizarre. He likely saw way more than Eddie. 
Eddie "didn't do any of this shit," as Murphy said, telling his Rick James edition of "True Hollywood Stories" in the Chappelle segment above. "So at night, when Eddie would break out, we would all be getting crazy and wild." 
His dramatized kick to "habitual line-stepper" James' chest is a moment that will live on forever in comedic history.
2. The Chappelle Show — "True Hollywood Stories: Prince"
His second "True Hollywood" Chappelle moment told the story of losing to the late Prince in a game of basketball. 
"I know what we'll call this: the shirts against the blouses," he says in one iconic line. "And when I said that, this look came on his face ... I'm looking back at him thinking to myself, 'What are you angry about? You know where you got that shirt from, and it damn sure wasn't the men's department.'"
3. Blacks Jesus as the Vic 
Murphy played the villain role on Adult Swim's Black Jesus, constantly antagonizing Compton's lord and savior for being a bum and a false prophet. His rant trying to pin Black Jesus for a terrorist building a wood bomb in the "False Witness" episode is particularly rich.
4. Stand-up on the 2013 Arsenio Hall Show
In a rare TV appearance outside of the Adult Swim multi-verse, Murphy appeared on The Arsenio Hall Show in 2013. He talks Hurricane Sandy, smoking weed and the time he met Shaquille O'Neal.
5. Charlie Murphy's Crash Comedy
After the demise of The Chappelle Show, Murphy got a regular gig on Crackle delivering short, six-minute episodes of stand-up comedy. He parodied celebrities and created advertisements for fake products and services, such as his sketch for "Attitudes," a restaurant that makes a selling point of the fact that none of the employees give a fuck because they hate their jobs.
6. Charlie Murphy as Gusto in CB4
Murphy has a long filmography, though one of his most memorable moments was from a quick stint as the club owner Gusto in the cult hip-hop flick CB4. In the clip above, he puts Rock in his place for talking back by flipping a table and throwing him into an alley. 
7. Charlie Murphy's I Will Not Apologize
In his 2010 stand-up special, I Will Not Apologize, Murphy checked the world's 6.5 billion egos and took Hollywood to task for the ways it uses rehab as a scapegoat for all its bad behavior. Alone onstage with a mic and audience, he could explore the fullest extent of his disturbed and deranged sense of humor that the world will dearly miss.
Mic has ongoing comedy coverage. Follow our main comedy hub here.