These are the 10 highest-paid athletes in the world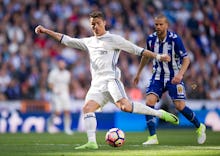 Athletes tend to be well-compensated for being at the top of their game. Makes sense — fans have a lot of emotion (and spending power), with strong attachments to particular athletes or teams.
From the 5 million Chicagoans gathering for a parade after the Chicago Cubs' World Series win to the elation (or heartbreak) after the New England Patriots pulled off a stunning comeback — despite Super Bowl chances falling to only 0.4%, recent months have counted dozens of emotional sports moments. 
And athletes are paid well worldwide, not just in the form of high salaries, but also because of generous endorsement deals that sometimes bring billions — yes, billions — in income.
So, who are the athletes who receive the most compensation for their athletic prowess and famous faces? Here are the top 10, ranked in ascending order, according to the Forbes list of the world's highest paid athletes, published in June 2016. 
While most names on this list are probably familiar, the big money some of these stars get may surprise you.
10. Kobe Bryant
Total earnings: $50 million
"Bryant banked $680 million in salary and endorsements during his two-decade career," Forbes reported. "It is the most ever for a team athlete during their playing career." 
Bryant, who retired in 2016, had the highest salary in the NBA for the final six years of his career. But the end of Bryant's athletic run doesn't mean the end of his sponsorship deals. 
"Nike will continue to innovate and manufacture new models of Bryant's signature shoe even after he hangs it up for the Los Angeles Lakers," Fox Sports reported in February 2016.
"Kobe Bryant isn't just a basketball player," one fan told the Los Angeles Times. "He is a way of life for fans in Los Angeles and around the world. His work ethic, his tenacity, his complete drive to be the best and win at all cost inspires and motivates us as fans throughout our daily lives."
9. Jordan Spieth
Total earnings: $52.8 million
"At age 22, Jordan Spieth became the first $22 million man in golf Sunday," the Associated Press reported in 2015. "His fifth victory of the year, including two majors, allowed the Texan to set a PGA Tour record with $12,030,465 in earnings." 
Spieth, 23, is ranked No. 31 on ESPN's all-time money leaders' list for golfers, with earnings of $28,538,836.
He has been described as "one of the most lucrative cash machines in all of sports, and among the richest in all of entertainment," by Golf Digest. "Spieth signed a 10-year deal with Under Armour earlier this year [2015] and also has endorsement relationships with AT&T, Titleist, Perfect Sense, Rolex, NetJets and Super Strokes. Those deals plus overseas appearance money put Spieth easily past $50 million this year."
"Baseball was Spieth's first love," according to his biography on his official website. "A left-handed pitcher, he gave it up at age 12 to focus on golf." His compensation suggests he may have made the right choice. 
8. Phil Mickelson
Total earnings: $52.9 million
Phil Mickelson, who turned pro in 1992, has won 42 events on the PGA Tour throughout his long career. He is also "the only man to represent the U.S. in 10 Ryder Cup matches and all 11 Presidents Cups," according to his website.
Mickelson ranks No. 2 on ESPN's all-time money leaders' list for golfers, topped only by Tiger Woods. Mickelson has collected $82,583,737 to Woods' $110,061,012.
Mickelson's sponsors include Callaway, Barclays, Rolex and Amgen, according to Forbes. Despite a lawsuit by the Securities and Exchange Commission in 2016, "Phil Mickelson won't likely take a hit with his fans or his corporate sponsors," a sports marketing expert told USA Today. 
According to his bio, several milestones are within Mickelson's reach: "There are three more victories needed to join Walter Hagan at ninth on the all-time winner's list with 45. There is another Ryder Cup team to make to extend his U.S. record to 11 and tie Europe's Nick Faldo for most appearances in the event. There are plenty of more opportunities for Phil to be Phil in full." 
7. Cam Newton
Total earnings: $53.1 million
Quarterback Cam Newton earned his first career MVP award in 2016, in his fifth season as an NFL quarterback. The year prior, Newton signed a five-year deal with the Carolina Panthers worth $118.466 million. 
Newton also earns substantial income from endorsement deals. "Marketers, like many fans, appear to have bought into Newton's 'Superman' persona," according to ESPN.
Newton's major sponsors include Microsoft, General Motors, Under Armour, Gatorade and Dannon Oikos Triple Zero yogurt. "When Carolina earned a spot in Super Bowl 50, the victory brought Panthers quarterback Cam Newton $1 million in bonuses from companies of products that he endorses," AL.com reported.
6. Novak Djokovic
Total earnings: $55.8 million
Serbian tennis pro Novak Djokovic became the first player in history to win $20 million in prize money in a single season. 
Djokovic turned pro in 2003 and has won 67 career singles titles and one doubles title, according to ESPN. He's ranked No. 2 in ATP Rankings. His endorsement partners include Uniqlo, Adidas, Head, ANZ, Peugot and Seiko, Forbes reported. 
"Although he enjoyed skiing, and even football, it was tennis that won him over," according to his official website. "It was destiny. If something in your life is meant to be, then it's meant to be!" 
5. Kevin Durant
Total earnings: $56.2 million
Kevin Durant of the Golden State Warriors was ranked as the NBA's most valuable player in 2014.
"Durant's choice to sign with Golden State came without a long-term commitment — he signed a two-year contract with just over $54 million, with a player option after the first season," according to SB Nation. Durant also has a 10-year sponsorship deal with Nike worth $285 million, which he signed in 2014 after Under Armour tried — and failed — to win his endorsement.
Durant has appeared in 703 games in his career and averages 27.2 points per game. In February 2017, Forbes revised Durant's total earnings to $62.5 million.
4. Roger Federer
Total earnings: $67.8 million
Swiss tennis star Roger Federer has won more than $98 million in prize money during the course of his career, according to Forbes. 
Federer was named most marketable sports person of 2016, according to his official website. He earns more than $60 million from sponsorship deals with Nike, Rolex. Mercedes-Benz and Credit Suisse, Forbes reported. 
Federer "holds the record for most Grand Slam men's singles Championships with 18 titles and has been in 28 finals," according to his website.  He is also tied for most Wimbledon championships won, has 91 singles titles and is an Olympic medalist, among many other athletic achievements. 
3. LeBron James
Total earnings: $77.2 million
In 2016 LeBron James signed a three-year contract with the Cleveland Cavaliers worth more than $100 million. The deal made James the highest paid NBA player for the first time in his career. He also signed a lifetime endorsement deal with Nike.
"From helping deliver Cleveland's first championship in 52 years, to using his platform to create social change and being named Sports Illustrated's Sportsperson of the Year, it was 12 shining months of personal, professional, and philanthropic achievement," his official website wrote.
In February 2017, Forbes revised James' total earnings up to $86 million.
2. Lionel Messi
Total earnings: $81.4 million
Argentinian Lionel Messi, who plays for the Argentinian national team and for Futbol Club Barcelona, is the highest-paid player at Barcelona. As of the end of last year, Messi was still involved in contract negotiations with FC Barcelona and the delay was prompting interest from other teams. He also has a sponsorship deal with Adidas and is "the brand's highest earning athlete." 
"Leo Messi is the best player in the world," according to FC Barcelona. "Technically perfect, he brings together unselfishness, pace, composure and goals to make him No. 1."
One note: Carlos Tevez is reportedly hot on Messi's heels, per SB Nation.
1. Cristiano Ronaldo
Total earnings: $88 million
Cristiano Ronaldo, a Portuguese soccer superstar who plays for Real Madrid, has "firmly established as one of the leading goal scorers in the history of the club," according to his bio.
Rinaldo signed a new deal in November, guaranteeing him more than $53 million in annual salary and bonuses through 2021. Ronaldo also earns millions more from sponsorship deals with Nike, Tag Heuer, Sacoor Brothers suits and Monster headphones."
"With his irrepressible thirst for goals, power and speed, Ronaldo continues to amass silverware and records in abundance – and is the inaugural The Best FIFA Men's Player," per the Fédération Internationale de Football Association.
When you rank so high for reputation and pay, it's no surprise they make statues in your honor. Whether those statues live up to reality? That's another question, as Ronaldo has learned the hard way.
Sign up for The Payoff — your weekly crash course on how to live your best financial life. Additionally, for all your burning money questions, check out Mic's credit, savings, career, investing and health care hubs for more information — that pays off.