Rex Tillerson in Moscow: "There is a low level of trust" between Russia and the US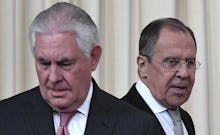 U.S. Secretary of State Rex Tillerson emerged from meetings with Russian President Vladimir Putin and other top diplomats Wednesday to say openly that trust between the two nuclear powers is "at a low point" and must be addressed.
"There is a low level of trust between our two countries," Tillerson said at a joint news conference with Russian Foreign Minister Sergey Lavrov in Moscow. "The world's two foremost nuclear powers cannot have this kind of relationship."
The talks came as the United States and Russia stand in opposition to each other over how best to handle Syrian President Bashar Assad.
Diplomatic tensions have spiked in the wake of last week's U.S. missile strike on the Syrian air field from which the Assad regime launched a chemical agent attack that killed and wounded civilians.  Tillerson said during the news conference that Syria has used chemical agents on more than 50 occasions.
Putin has condemned the missile strike ordered by President Donald Trump, calling it a violation of international law. The Russian leaders continue to cast doubt on the U.S.' assertion that Assad, a Russian ally, employed chemicals against his own people.
"This is obviously the subject where our views differ," Lavrov said at the question and answer session.
Tillerson also said at the news conference that there's no "firm" evidence that the Russians were complicit in the Syrian government's latest chemical attack. Recent news reports raised questions of whether Russia had advance knowledge of Assad's plans. Lavrov bluntly said Russia has no need to cover up for Assad.
Tillerson and Putin met for two hours, during which they reached agreements on some things. Both countries, the officials said, concurred there should be a United Nations probe of the Assad regime attack last week that resulted in civilian casualties. They also agreed that North Korea must be "denuclearized."
The diplomats have agreed to keep talking about developments in Syria, where America and its allies are focused not only on ending Assad's reign but crushing the Islamic State terror network.