Who does RuPaul play in 'Girlboss'? Examining the drag queen's non-drag performance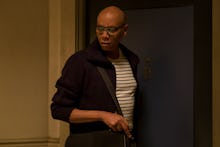 Of all the actors who pop up in Netflix's Girlboss, an adaptation of Nasty Gal founder Sophia Amoruso's autobiography, it's RuPaul who proves the most surprising. It's not shocking to see him in the show — Netflix included him in its trailer for the series — but the scope. What seems at first to be a cameo becomes a true recurring role.
It's funny to see the host of one of TV's most popular reality shows just hanging out in a supporting role on a Netflix series. But RuPaul's presence in Girlboss is more than just a bit of gag casting. It seems to be where Ru wants to go next in his career.
With increasing amounts of success, RuPaul's Drag Race is clearly not going anywhere — at least, unless it's another Viacom network — for some time. But production on the show only lasts a couple of months, and the press cycle is only a bit of extra time. While the show's not in production, Ru keeps busy with work on other shows, like judging Skin Wars on GSN.
But in a recent Vanity Fair interview, Ru said something that, in the moment, seemed puzzling. He mentioned that he "just finished pilot season," and mentioned auditioning for films and TV. While RuPaul isn't a stranger to acting, it's been a while since anything he did was more than a cameo. The fact that he's going out for more substantial roles — even if they're just supporting parts — indicates he's looking beyond Drag Race.
If Girlboss is any indication, the added work will be a smart investment. Ru plays Lionel, Sophia's neighbor and the kind of funny, witty figure who lasts just long enough in scenes to steal them but never overstays his welcome. He — along with Cole Escola, who is an art student and friend of Sophia's — helps to keep the San Francisco-based story from becoming too hetero. It's a small part, but Lionel's relationship with Sophia feels real and lived in. This is not a caricature, and it's most certainly not drag.
Again, Drag Race isn't coming to an end any time soon, but Girlboss represents a new, separate phase of Ru's career. At 56, the drag titan has had quite a life in entertainment already — why not add another chapter?
Mic has ongoing RuPaul coverage. Follow our main RuPaul hub.