'Arms' Nintendo Switch release date revealed in April 2017 Nintendo Direct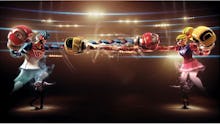 The Arms release date for Nintendo Switch has finally been revealed. The game was first introduced during the Jan. 12 event with a rundown of gameplay and characters but few details regarding its launch. During the Nintendo Direct announcement, however, the gaming company finally confirmed when to expect the motion-controlled fighting game. 
Arms release date will hit on June 16 and cost $59.99.
Nintendo also revealed more details about the upcoming boxing game. The game will feature a variety of weapon attachments you can unlock with in-game credits, along with the option to play in 2-on-2 matches. The company also revealed a new character named Min Min with arms made from ramen noodles and a dragon weapon that can shoot lasers at your opponent.
Arms release date and price: What to expect on launch day
Unlike Splatoon 2, which provides a heavy emphasis on online play, Arms is more focused on local multiplayer. While the game supports two players, you won't be able to simply turn the Joy-Con sideways and start playing against friends. Those hoping to play against friends will need another pair of Joy-Con or Pro Controller to attach to the game. Playing with the Pro Controller will disable the motion control portion of the game's controls.
Our Switch hands-on back in January gave us some personal time playing the fighter and we were impressed. Playing with the motion controls came with a learning curve, but once we got the core basics down the game proved to be a lot of fun. No word on how it plays with a Switch Pro Controller, but playing with motion controls is basically a more intricate version of Wii Boxing — a punching game that offers more attack options and will leave you less winded. But only slightly.
More Nintendo Switch news and coverage
Looking for more Nintendo Switch news? Check out how blind gamers are using the Nintendo Switch. Nintendo's left Joy-Con issue turns out to be a hardware problem — find out how to solve it. Find out how to buy a console amidst the recent restock. Learn why the Switch cartridges taste so bad. Check out our comparison photos sizing up the Switch to the Wii U GamePad (part one and part two), or find out how to make use of ethernet without the dock and the best way to get alerts when new stock arrives.