Watch Kellyanne Conway get laughed at for complaining about people who lie on TV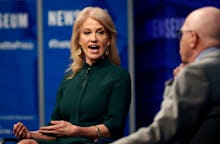 Kellyanne Conway, counselor to Donald Trump and purveyor of alternative facts, finally managed to say something true during an interview at the Newseum in Washington, D.C., on Wednesday.
Namely, she said that cable TV is cursed with a plague of liars and spin artists — perhaps not the most discerning insight for a person whose time in the public eye has mostly been highlighted by her fabrication of terrorist attacks and repeated doubling down on some of Trump's most egregious lies.
"You can turn on the TV — more than you can read in the paper because I assume editors are still doing their jobs in most places — and people literally say things that just aren't true," Conway said. "They're not even disguised as opinion."
The crowd broke out into laughter as Conway winked at the crowd, adding, "Yeah."
The wink appears to be an acknowledgement of what the rest of the country already knows: Conway knows exactly what she's doing.
Conway has been a rare sight since February, when the White House yanked her from media appearances after shows like Morning Joe began blacklisting her. But other figures, such as press secretary Sean Spicer, have happily taken up the mantle of the White House's chief spin doctor job in the interim, and Conway may well be back on the front lines after her time out comes to an end.