This 'Mario Kart 8' Nintendo Switch Bundle looks quite fake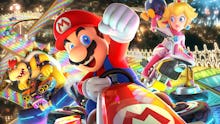 The April 12 Nintendo Direct announcement brought new Splatoon 2 details, Arms details and a ton of other news. But if you were looking for added purchase options for the company's new console — like, say, a Nintendo Switch Mario Kart 8 Deluxe bundle — you were out of luck. 
Rumors surrounding the Mario Kart 8 Nintendo Switch preorder option circled the internet recently, but without a single mention from Nintendo during the Direct. Those holding their breath should still be on the lookout for a Mario Kart 8 Switch bundle option, as it's possible we'll get one on April 28, the release date. 
But be careful about these latest rumored bundle options.
Mario Kart 8 Deluxe Nintendo Switch bundle: Definitely digitally altered
So, this looks fake. This Mario Kart bundle was pronounced real on Twitter by NinMobileNews. The picture attached to the tweet clearly adds to the report's truthiness. Here's a hint if you can't spot the error: it's not just the smudging near the Nintendo Switch logo, it's also the fact that the front of the box features a gray console and the side features the neon-colored one.
(Update: The fake-looking photoshop has been confirmed as real! In a statement to GameSpot, a Nintendo representative was quoted saying, "The bundle is exclusive to Russia and there are no plans to bring it to other countries at this time.")
This isn't to say Nintendo isn't planning to bring a Mario Kart 8 Deluxe Nintendo Switch bundle to stores. While this digital alteration isn't real, it's possible that Nintendo will bring the bundle to fruition, much like they did for the Wii U. Let's hope Nintendo gives Switch fans what they're looking for. We're dreaming of a limited-edition-colored Joy-Con Mario Kart 8 bundle, ourselves.
April 15, 2017 9:23 A.M. ET: This story has been updated
Check out more Nintendo Switch news and coverage
Looking for more Nintendo Switch news? Check out how blind gamers are using the Nintendo Switch. Nintendo's left Joy-Con issue turns out to be a hardware problem — find out how to solve it. Find out how to buy a console amidst the recent restock. Learn why the Switch cartridges taste so bad. Check out our comparison photos sizing up the Switch to the Wii U GamePad (part one and part two), or find out how to make use of ethernet without the dock and the best way to get alerts when new stock arrives.