Donald Trump is ramping up his immigration deportation force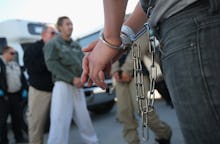 President Donald Trump is laying the groundwork to create his promised nationwide "deportation force," securing 33,000 more beds in detention centers for undocumented immigrants and starting discussions to give "dozens of local police forces" the authority to enforce federal immigration laws, the Washington Post reported Wednesday.
According to a 90-day Department of Homeland Security progress report obtained by the Washington Post, the agency is considering expedited procedures to quickly ramp up the number of Customs and Borders Protection agents in pursuit of Trump's ultimate goal of hiring 5,000 additional CBP officers.
The report also details some preliminary planning for the construction of Trump's promised border wall along the U.S.-Mexico border, although the president will ultimately have to convince a Congress currently dominated by fiscal hawks to fund its estimated $21.6 billion cost.
Trump also plans on hiring approximately 10,000 Immigration and Customs Enforcement agents, which would increase the number of active ICE employees by approximately 50%. 
As the Washington Post noted, the DHS report estimates that hiring just 500 additional CBP agents would cost roughly $100 million, a cost of approximately $200,000 per additional employee.
While the report is only a preliminary assessment, it reflects the Trump administration's consistent focus on deportation as a solution to largely exaggerated or imaginary problems concerning undocumented immigration in the United States.
On the campaign trail and during his presidency, Trump has repeatedly teased the idea of a compromise on immigration, saying he was open to a pathway to permanent legal status for some immigrants. In a recent joint address to Congress, Trump said he was open to working with Republicans and Democrats in Congress on immigration reform."
But the president has repeatedly returned to his hardline rhetoric on immigration and, at the same time, given far-reaching authority for immigration authorities to round up and deport undocumented residents. Even a compromise on Trump's campaign promise to deport every undocumented resident in the country would still result in millions of deportations — and as Vox noted in 2016, Trump would mostly just need to amp up the immigration-enforcement infrastructure already in place under previous administrations to accomplish that goal.