Nintendo Switch: Dock, neon yellow Joy-Con and attachable battery pack announced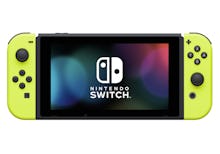 Nintendo just announced a bunch of new games coming to the 3DS and Nintendo Switch during its April 2017 Direct presentation. But the company also revealed some fresh hardware, including a standalone Nintendo Switch Dock (limited stock available) and some new Joy-Con options. Here's what you need to know.
Nintendo Switch Dock: Standalone models coming soon
If you're desperate for a second Nintendo Switch dock you're in luck. The company is selling standalone units starting on May 19 in limited quantities. Nintendo previously sold the dock on its own for $89.99, but quickly ran out of supply.
If you want to use the Switch on more than one television this is a pretty good purchase, though getting your hands on one of these docks may still be easier said then done when they relaunch next month.
Neon Yellow Joy-Con: Ugly or awesome?
Nintendo also announced a new color option for the Joy-Con. These neon yellow controllers will be available alongside Arms when it launches on June 16. The company didn't reveal a price, but we assume these will cost $79.99, just like the current Joy-Con options.
Personally, I'm not really sold on this new design, but if yellow is your favorite color then the new Joy-Con is definitely for you.
Joy-Con AA Battery Pack: Batteries not included?
Finally, Nintendo revealed a new battery pack for the Joy-Con that takes AA batteries. They slide onto each Joy-Con similar to the regular strap to increase battery life, though why they don't pack rechargeable lithium batteries is beyond us. We also don't know the price for this accessory, though hopefully that information isn't far behind.
Check out more Nintendo Switch news and coverage
Looking for more Nintendo Switch news? Check out how blind gamers are using the Nintendo Switch. Nintendo's left Joy-Con issue turns out to be a hardware problem — find out how to solve it. Find out how to buy a console amidst the recent restock. Learn why the Switch cartridges taste so bad. Check out our comparison photos sizing up the Switch to the Wii U GamePad (part one and part two), or find out how to make use of ethernet without the dock and the best way to get alerts when new stock arrives.