'Zelda' amiibo, Cloud amiibo, 'Splatoon 2' amiibo and more revealed in Nintendo Direct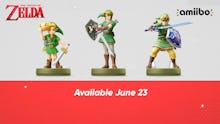 The Nintendo Direct proceedings for April 2017 have confirmed new Zelda amiibo, Cloud amiibo, Splatoon 2 amiibo and more coming our way. As if you haven't spent enough time amiibo-hacking the best armor sets in The Legend of Zelda: Breath of the Wild. 
While the Nintendo Direct's primary objective was to bring details surrounding the shooter Splatoon 2 and upcoming fighting game Arms, that didn't stop Nintendo from leaving amiibo fans a few surprises. Here's what there is to look forward to.
Zelda amiibo release date details
Zelda: Breath of the Wild players have known for a while there were weapons and clothing tucked away for future amiibo to unlock. Those amiibo were announced during the most recent Direct. They are Majora's Mask Link, Twilight Princess Link and Skyward Sword Link. As noted on Twitter, Nintendo's new Zelda amiibo will arrive on June 23. 
Corrin, Bayonetta and Cloud amiibo release date details
Super Smash Bros. 4 on the Wii U and 3DS weren't left out of the fun. While the Switch received Zelda amiibo, the popular fighting game will finally see amiibo for the three more recent downloadable characters. Corrin, Bayonetta and Cloud amiibo will each get two forms — Cloud and Bayo in the form of costume swaps and Corrin in the form of a gender swap. 
Unlike Zelda, where amiibo unlock items, Smash Bros. 4 allows players to fight against their figurines. Smash fans can expect the amiibo on July 21.
Splatoon amiibo release date details
Three amiibo are coming to the Splatoon 2 world too. They are Inkling Boy, Inkling Girl and Inkling Squid. These three will join the handful of amiibo already available for the first game in the series on Wii U. They arrive on the same day as Splatoon 2, July 21. 
Check out more Nintendo Switch news and coverage
Looking for more Nintendo Switch news? Check out how blind gamers are using the Nintendo Switch. Nintendo's left Joy-Con issue turns out to be a hardware problem — find out how to solve it. Find out how to buy a console amidst the recent restock. Learn why the Switch cartridges taste so bad. Check out our comparison photos sizing up the Switch to the Wii U GamePad (part one and part two), or find out how to make use of ethernet without the dock and the best way to get alerts when new stock arrives.