Bill O'Reilly is asking a judge to keep his divorce records sealed, report says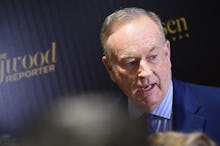 Following an onslaught of sexual harassment allegations and all-around bad press, it seems Fox News mouthpiece Bill O'Reilly is playing some offense.
According to Entity, O'Reilly filed court documents in March asking a judge keep the documents containing details from his 2011 divorce, settlement and custody battle sealed.
Entity reported that unsealing the documents are "complicated, "but one detail that stands out is O'Reilly's daughter's court testimony, an excerpt of which Gawker obtained in 2015. 
In the testimony, she says she saw O'Reilly "choking" her mother, Maureen McPhilmy, and "dragging her down some stairs" by the neck.
At the time, O'Reilly gave a statement to Politico denying the allegations.
"All allegations against me in these circumstances are 100% false," O'Reilly said. "I am going to respect the court-mandated confidentiality put in place to protect my children and will not comment any further."
O'Reilly announced Tuesday night that he would be taking a rather well-timed vacation from his show, The O'Reilly Factor. Though he said he had been planning the vacation since October, rumors abound he may not return to his show at all.
We may never know what's contained in those divorce court documents, and knowing that is probably just the peace of mind O'Reilly needs to enjoy his vacation.