Tomi Lahren clears up her views on abortion that got her ousted from TheBlaze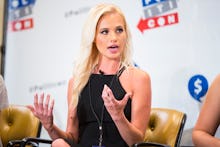 Conservative commentator Tomi Lahren is speaking out about for the first time after her pro-abortion rights comments on The View led to her firing from TheBlaze.
In a Wednesday night interview on ABC News, Lahren clarified her stance on abortion, telling host Byron Pitts that she identifies as both anti-abortion and pro-choice:
I believe you can be anti-abortion and pro-choice, and that's where I sit. Personally I would never have an abortion. Personally I would never encourage anyone else to have an abortion. In fact, I've counseled friends against it. I don't believe in abortion. However, as someone who views limited government, I do believe that during the first trimester that option should be there for women and I stand behind that. Now, after the first trimester, that becomes a little more difficult for me and I do believe the government has a role when the baby is viable on its own. But during that first trimester, I think we have to approach these issues with the utmost compassion for young women that are going through an experience that luckily I never had to go through.
Lahren also had some words for her former employer Glenn Beck, whom she's suing for wrongful termination. 
"Let me go," she said. "Let me move on. I'm deeply hurt by what has happened; I'm disappointed by what has happened. But if this is the way that it is, let's just part ways cleanly."