United Airlines: Woman says she was sexually harassed on flight, offered travel vouchers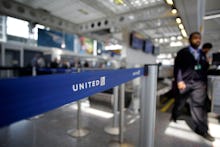 United Airlines' public relations nightmare continues to spiral as more passengers spill stories of flying their distinctly unfriendly skies. 
The Huffington Post reported Wednesday that a woman who said she was aggressively groped by a drunk man onboard a United flight in March was given travel vouchers in lieu of an investigation into her complaint. 
Jennifer Rafieyan told the outlet that United flight attendants seated an obviously intoxicated man next to her and her 12-year-old daughter during a trip from Newark, New Jersey, to Phoenix. The flight attendants seemed to anticipate his bad behavior, because according to Rafieyan, one "made some comment to me like, 'This is going to be an interesting flight,' and looked at him. And then the other flight attendant came up and said, 'Let me know if you need anything. I mean it' ? and she looked at him."
Rafieyan said that the man proceeded to grab her, kiss her hands, stroke her legs and rudely invade her personal space, filching her to-do list and adding "PASIONAT NITE XX" to the docket. 
Rafieyan told the Post that she didn't want to leave her seat and leave her daughter open to harassment, but when her daughter got up to use the bathroom, Rafieyan saw her window: She reported the man to a flight attendant. 
"She said, 'I'm so sorry. We felt really bad putting him next to you, but there was nothing we could do. He was doing the same kind of stuff to the other flight attendant,'" Rafieyan recalled.
Despite her complaints, she said, the man ordered and was served an additional three whiskey cocktails, plus a mini wine. He reportedly became enough of a menace that the crew warned an early landing if he didn't cool it.
When Rafieyan filed a complaint on March 29, she was given four $100 travel vouchers "to make amends," per the email she reportedly received from United. Rafeyian told the Huffington Post that the flimsy apology made her "feel devalued as a human being." 
She also reported the harassment to the Department of Transportation and to the Federal Aviation Administration, which explicitly bars drunken passengers from boarding planes. 
In an emailed statement, a United representative said the airline was looking into Rafieyan's allegations.
"We sincerely apologize to Ms. Rafieyan and her family for their experience," the statement read. "We are reviewing the way that this situation was handled on board, and how our customer care team responded. We will follow up with Ms. Rafieyan to apologize again, and discuss how we could have handled this situation better."
The incident follows a number of troubling accounts of the airline's disregard for passengers' well-being. On Sunday, David Dao was pulled from his seat and dragged off a plane United said was overbooked, but actually wasn't. On Tuesday, another passenger, Geoff Fearns, said he bought a $1,000 first-class ticket from Hawaii to Los Angeles, only to have airline personnel boot him from the allegedly overbooked plane. In March, United employees reportedly blocked two teens from boarding their flight because they were wearing leggings. 
April 13, 2017, 10:16 a.m.: This article has been updated.