3 genius ways to make money in less than 10 minutes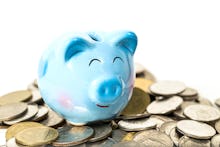 Think about your last 24 hours. Were there any moments when you had 10 minutes to kill? Maybe your commute ground to a halt this morning. Maybe your coffee date was running late. Either way, those bits of lost time each day don't need to go wasted, with you scrolling through social media feeds as the seconds tick away. Those are minutes you could be getting paid for.
Bigger bucks will take at least a few hours accumulated over time, but you'll avoid the opportunity cost of not getting paid.
Instead, you can capitalize on that time — literally. Here are three of the quickest and simplest ways to drum up cash.
1. Answer unsolicited queries
You don't have to be famous to monetize your inbox (although that may help you get a higher rate). Thanks to a new startup called Nextio, anyone can earn money by responding to cold-call emails that typically go unanswered.
The idea is sort of an extension of LinkedIn's feature that charges you for the option to reach out to someone outside of your network — the crucial distinction, though, is that you get to keep most of the cash. The best part? You set the price yourself, although the company's CEO told Fast Company he expects most to charge only between 50 cents and $1 per response.
Of course, to make a ton of cash, it would help if people are actually trying to get in touch with you — and you have to view and respond to messages through Nextio's platform to get paid. So this would likely be most helpful if you are in a line of work in which lots of eager folks are going to be interested in "just a few minutes of your time," like venture capital, Instagram influencing or any other role where you buy products or services professionally.
Enjoy sharing your thoughts with brands about their goods and services? There's more money to be made in telling marketers and product designers what you think of their ideas, especially if you're willing to put in a little more time finding focus groups or filling out surveys.
Some sites, like Swagbucks, offer gift cards and small payouts in exchange for playing a game or completing a short survey. Focus groups, on the other hand, can pay up to $300 for a single hour of work, though they typically are looking for pretty specific kinds of people — for instance: high school basketball players or people who own an induction cooktop.
2. Check for rebates on stuff you already bought
Odds are you can find items you've already purchased if you check one of numerous startups that offer rebates in exchange for proof of purchase.
Sites like Ebates and Ibotta are popular options for getting cash back on both online and in-person purchases by sending in a copy of your receipt.
The rebates are relatively small, usually a few percent or between $2 to $3 for a given item. But in 10 minutes, you're more than likely to find a handful of things from your most recent grocery or drugstore outing.
Right now, Ibotta has rebates for a lot of essentials, ranging from $8 back if you've recently purchased Huggies diapers to $2.50 back on an 18-pack of Budweiser. Just scan your barcode and submit via the app.
3. Install ad lock-screens
Since you're probably checking your phone compulsively anyway, you might as well earn a little pocket change every time you do it. Apps like SlideJoy basically put an advertisement in front of your phone's home screen and compensate you for your attention (and annoyance).
A caveat: If you're uncomfortable with marketers getting access to your demographic information and browsing data, ad-lock screens probably aren't going to be the best option for you; TechCrunch reports that the idea has taken off more in Asia than in the U.S. You'll need an Android phone to use the app.
Still, for just a few minutes of "work," users report you can earn an extra $10 a month by glancing at your phone. SlideJoy tells clients its users view its ads 60 times per day.
Finally, if you really don't mind interacting with brands on the regular, you can ratchet that payday up a notch (without spending too much additional time) by allowing services like ShopTracker or SurveySavvy to track your purchases or browsing habits.
Decide this type of service isn't for you? You can always shut it off, or even install a Chrome extension that fills your browsing history with random traffic.
That'll throw the marketers off your scent.
Sign up for The Payoff: your weekly crash course on how to live your best financial life. Additionally, for all your burning money questions, check out Mic's credit, savings, career, investing and health care hubs for more information — that pays off.