Trump Impeachment Prediction: Expert who first called Trump win now foresees impeachment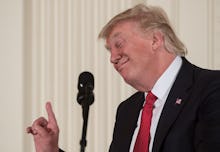 The professor who predicted President Donald Trump's rise is now predicting his fall.
Allan Lichtman, a distinguished professor of history at American University, was mocked when he first forecasted a Trump presidency based on the idea that elections are "primarily a reflection of the performance of the party in power."
But immediately after Trump's stunning upset over Hillary Clinton, Lichtman had another prognostication: that Trump would be impeached.
Lichtman expands on this idea in a new book, The Case for Impeachment, according to an advance copy obtained by Politico. 
"Taking time out of preparing to become the world's most powerful leader, he wrote me a personal note, saying 'Professor — Congrats — good call,'" Lichtman writes. "What Trump overlooked, however, was my 'next big prediction': that, after winning the presidency, he would be impeached."
Trump, Lichtman writes, could be brought down by ties to Russia, abuses of power or emoluments violations — or even by offenses committed before taking office, according to Politico.
And it might not take Democrats regaining control of the House in next year's midterms to do it, Lichtman predicts — "a Republican Congress might impeach a president of its own party" based on the threat Trump poses to longstanding American institutions.
Trump is suffering from historically low approval ratings amid an investigation into his possible ties to the Russian government and ethics concerns that won't go away.
Lichtman, a fierce Trump critic, predicted Trump's victory based on an unusual method that uses a set of 13 true/false questions. His second prediction — that Trump will be impeached — is based on his "gut," he told the Washington Post in September. 
But, he writes in his new book, "Trump's disregard for lying under oath" could allow Trump opponents to "set an impeachment trap for him" through civil lawsuit.
"Justice will be realized in today's America not through revolution, but by the Constitution's peaceful remedy of impeachment," he concludes the book, "but only if the people demand it."