Who is Bethenny Frankel dating? 'RHONY' star is not in a serious relationship.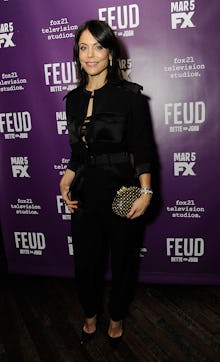 The Real Housewives of New York City's Bethenny Frankel is single and happy after her divorce from estranged ex-husband Jason Hoppy. 
Frankel doesn't seem to be in a rush to get into anything too serious right now, telling People back in March that she likes her life right now and that she's getting to know herself. "I like men and I am not in a serious relationship. I'm liking this! I don't know that I've ever really, really known how to date and be single like this," she says about her current relationship status.
That's not to say that the Skinnygirl founder hasn't been in a serious relationship since her split from Hoppy. She was previously linked to Dennis Shields for about a year. Shields, who is currently in the midst of a divorce from his wife of over 20 years, had been friends with the Real Housewives star for almost 30 years.
For Frankel, jumping back into the dating world has been slow for her. Her four-year divorce from Hoppy had been a trying and tiring affair that finally came to an end in July 2016. 
The divorce may have been finalized but the drama had not. In January, Hoppy was charged with harassment in the first degree after he showed up unexpectedly at their daughter Bryn's school. According to Frankel, he'd sent her hundreds of emails and FaceTime calls after receiving a cease and desist letter from her. 
In February, Frankel spoke to People about her plans for Valentine's Day. She revealed she was spending the romantic holiday by herself because she's not looking to be tied down to just one person right now. "He's still in my life," she said about her relationship with Shields. "I saw him last week for his birthday, but I'm not ready to settle down right now."
Dating for the reality TV star is complicated. After going through her divorce from Hoppy, she's been cautious about dating. "I've been having a difficult time for a long time, and I've kept that in," she revealed.  
"I was walking on eggshells. I felt hopeless. But now I feel calmer. You don't know how imbalanced you are until you feel a little balance. Sometimes I feel a little numb like someone who's watching someone else's life. It's better now but still, it's not party time."
April 13, 2017, 10:12 a.m.: This article has been updated.
Correction: April 13, 2017
Mic has ongoing Real Housewives coverage. Please follow our main Real Housewives hub here.