Victoria's Secret model Maria Borges makes history again — this time on 'Elle' magazine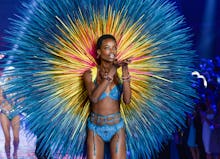 For Elle's May 2017 issue, the swimsuit issue, the fashion magazine decided on not just one, or two, or even three cover stars, but six cover stars. And girl, did they make it count. 
Some of the models Elle chose of course are predictable, including Bella Hadid and Jasmine Tookes. But Elle also chose two models who, upon landing the cover, would make history: Maria Borges and Candice Huffine. 
In the case of Maria Borges, the Angolan model who rose to notoriety after she became the first model to ever rock natural hair at the Victoria's Secret Fashion Show in 2015, she is actually the first model born in Africa to snag an Elle cover in 20 years. In 1997, Alek Wek, a Sudanese model, landed the cover. Since then? No one. 
This is something that Borges has already taken great pride in, writing on Twitter, "Honored to be the first African woman of the century to be on the cover of Elle. Thank you everyone for your support." 
On Instagram, she wrote: "It's an honor to be on the cover of the American Elle, feeling beautiful and rocking my afro!" 
Indeed, just like on the Victoria's Secret runway in 2015 and 2016, Borges is rocking her natural hair, a rare sight on an American magazine cover still to this day. 
"The fashion industry is here for everyone, [regardless] of color or race," Borges told Elle. "When I was growing up, I never saw someone like me, and now the other girls can see someone like them. It's all about inspiration."
Of course, her fans are thrilled, writing on Instagram: "True black girl magic right there" and "You go girl, my beautiful African queen." 
In addition to Borges, cover star Candice Huffine is also making history as one of the first plus-size women to grace the cover of Elle, joining the likes of Melissa McCarthy and Gabourey Sidibe. Her appearance is extra notable because, unlike many a cover featuring a plus-size woman, Huffine's size isn't explicitly mentioned. There's no "plus-size model Candice Huffine" or even the word "curve," for once. 
"I refused to be told I couldn't become what I had always imagined and committed myself to working tirelessly for the day when my size wouldn't dictate my possibility," Huffine wrote on Instagram. "I hope this cover can serve as a symbol for anyone who believes they can, that they are, that they will be."
As far as Huffine's own career history, this cover surprisingly goes down as her first American cover too. 
In an interview with Elle, Huffine noted: "This one is very monumental for me. It's my first American cover — this is a magazine my grandma can go buy at the store!" 
And while plus-size models like Ashley Graham and Robyn Lawley have graced plenty of international Elle covers, this may be the first time a model size 12 or above has landed the cover of the U.S. edition. (Mic has reached out to Elle to confirm this.) 
All this just goes to show how much a little bit of representation can mean to women the world over — and how far we still have to go.