New 'Star Wars' animated shorts highlight the heroines in a galaxy far, far away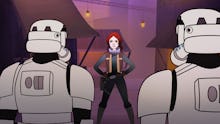 While many Star Wars fans will be honed in on even the smallest details around The Last Jedi during this year's Star Wars celebration, the franchise has already delivered a big highlight by shining the spotlight of some of its best female characters. 
As announced Wednesday night, a new series of animated shorts, Star Wars Forces of Destiny, will celebrate some of Star Wars' biggest heroes. Forces of Destiny will launch in July on Disney's YouTube channel before expanding as a two-part TV special with additional shorts on Disney Channel sometime during the fall. 
While the series isn't exclusively about female characters in the franchise, they're front and center in the animated shorts and the line of "adventure figures" — described as a cross between dolls and action figures — that will come from it. Considering the backlash Hasbro faced in 2016 after excluding Rey from a Star Wars-themed Monopoly game, it's a particularly welcome sight. 
For the animated shorts, several actresses from the series will reprise their roles, including Daisy Ridley as Rey, Felicity Jones as Jyn Erso and Lupita Nyong'o as Maz Kanata, who will be the narrator of the series. "For many years, something that's been really important to Star Wars is these characters that little kids can grow up and recognize a little bit of themselves," Lucasfilm president Kathleen Kennedy said, in a sneak peek of the new series. 
If the name Forces of Destiny also rings a bell, that's because it was previously theorized by some fans as the title of the eighth Star Wars film. As previously reported by AVS Forum, Lucasfilm filed for a European Union trademark for the name, Star Wars Forces of Destiny in December. Obviously, that's no longer a point of debate: It's called The Last Jedi. 
Star Wars Forces of Destiny arrives on Disney's YouTube channel in July. You can check out a sneak peek of the new series below: 
Mic has ongoing coverage of Star Wars. Follow our main Star Wars hub here.