All the best mid-2000s pop culture references in 'Girlboss'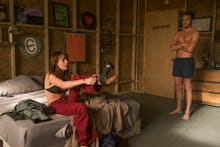 It takes a few episodes before Girlboss really embraces its status as a period piece, but once episode 4 begins, and Sophia's best friend Annie starts ranting about Failure to Launch, you can tell Netflix's new series has arrived.
Girlboss tells what it calls a "loose" version of the true events that led to Sophia Amoruso establishing the online retailer Nasty Gal. This places the story firmly in mid-2000s San Francisco, following Sophia and the supporting characters through two years of their lives. For the first couple of episodes, Pitch Perfect scribe Kay Cannon's series remains pretty distant from the pop culture of the era. Once the show starts embracing the references, however, it becomes much more fun to watch — and feels like a true transportation to a very specific moment in time.
Here are five of our favorite shout-outs to mid-2000s pop culture in Girlboss, from online retailers to a very important TV death.
eBay
Okay, this one's a bit of a cheat, considering the whole series is about Sophia setting up an eBay store for vintage clothing. But it's funny to hear the characters talk about the intricacies of the online auction site so many years after retailers like Amazon have become far more dominant.
This, plus a few other references to internet culture, really foster a feeling of these characters living in a different online world than we do now. They talk about MySpace friends — episode 5's conflict is kicked off when Sophia removes Annie from her top eight — with no knowledge of Twitter or Instagram to come. It's refreshing to watch and remember.
Britney Spears' breakdown
Sophia, Annie and Annie's boyfriend Dax take a road trip to Los Angeles in episode 8, inspiring Britney Spears superfan Annie to lament her favorite pop star's current fate. "After that whole umbrella incident, she needs a steady hand on her shoulder," she says to Dax, trying to convince her boyfriend that a search for the star would be a fun use of time. "I could be that hand."
Shockingly, Annie does not find Spears, but it pretty firmly roots the story in the summer of 2007. Spears has made remarkable progress in a decade, but it unfortunately wasn't too long ago that she endured a tremendously difficult mental health battle under intense public scrutiny. You'd hope that in 2017, should Spears go through something different, the public's reaction would be a bit more like Annie's.
Marissa Cooper's death on The O.C.
After talking about Failure to Launch earlier in episode 4, Annie and Sophia gather with their boyfriends to watch what Sophia calls the most important TV event in her lifetime: the season 3 death of Marissa Cooper.
The importance of the event is obviously played for a laugh, as The O.C. is a show that hasn't quite held onto its cultural relevance since its heyday. But like with MySpace and eBay, the scene is a fun reminder of what life once was — and why we can't seem to let Marissa go.
Message boards
This is one of the funniest ways Girlboss treats internet culture: In episode 10, we see a visual representation of a vintage clothing message board. To keep it from being merely words on a screen, Cannon and her team stage the board like a shady cabal, all of the participants sitting around a table in a dark room. People appear and disappear in a blink when they log off and on, while visual representations of GIFs and hyperlinks appear in front of them.
It's a whimsical episode that sets almost all of its action in this message board shadow realm. But it's effective in showing how actions online that are absent of tone — Sophia and Annie speak in monotone in an instant messenger chat — have very real consequences. While she's straight-faced and unaffected "online," Sophia cries in front of her computer as she and Annie fight. Though the venue has changed from AOL Instant Messenger to Twitter and Snapchat, the feelings are all too familiar.
"Float On"
There's something so delightfully mid-2000s about Modest Mouse. "Float On" is a song that feels particularly of that era, more so than some of its contemporary songs that either feel like throwbacks or ahead of their time. So when, in episode 6, Sophia goes through an elaborate Starbucks sequence, "Float On" proves the perfect song to score the endeavor. (Starbucks may still be around, but the mania around it also feels very mid-2000s.)
Girlboss uses the song again at the end of the episode, but rather significantly, it's a cover this time. It's a woman's voice that floats through the final moments of the episode as Sophia takes her next steps. If Modest Mouse is of the present, the final cover thrusts Sophia into the future.
Girlboss is streaming on Netflix now.
Mic has ongoing TV coverage. Please follow our main TV hub here.