Sheila Abdus-Salaam was a "trailblazing" judge in NY. Here's why we should #SayHerName.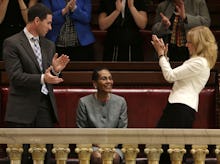 April 17, 2017, 11:40 a.m.: In the days after Sheila Abdus-Salaam's death, early reports that she was a practicing Muslim began to be called into question. At least one person who knew Abdus-Salaam told reporters that she had said she was not. However, BuzzFeed reported that Abdus-Salaam had at one point joined the Nation of Islam, and although she reportedly left the Nation after separating from her first husband, some close to her believed she may have "quietly associated with Islam." In the absence of definitive answers to questions surrounding Abdus-Salaam's faith, Mic is not updating references to her as Muslim woman. Mic's original story appears below.
Sheila Abdus-Salaam — a judge for New York's Court of Appeals — was found dead, floating on the Hudson River on Wednesday afternoon, after being reported missing earlier in the day. Law enforcement officials told CNN that the investigation is pointing to a possible suicide.
Abdus-Salaam, the daughter of working-class parents, is the United States' first Muslim female judge and the first black woman to be appointed into the city's highest court. Her years of dedication to the law prompted New York Gov. Andrew Cuomo to appoint her to the Court of Appeals. Abdus-Salaam also earned the praise and respect of former Attorney General Eric Holder, her Columbia Law School classmate, who attended her swearing-in ceremony in June 2013.
When news broke of her death, several news organizations didn't mention her name in their headlines and their social media posts. "Body of US's first female Muslim judge found in Hudson river: report," the Hill tweeted. BuzzFeed and Fox News replaced Abdus-Salaam's name with "first woman muslim judge in the US" and "black, Muslim judge," respectively. The New York Post took the more simplistic approach: "Judge found dead in Hudson River."
It's a common practice for the press to not include names of local figures in their headlines. But on social media on Wednesday night, that practice ultimately masked the outcry around her death with another name.
Instead, "Hudson River" became a trending topic on Twitter. Abdus-Salaam's devotion to justice, along with her legacy, were initially hidden under several photos of glowing skyline and a beautiful sunset. The omission of Abdus-Salaam's name invoked public outcries from social media users — many of them using the #SayHerName hashtag, which was often used to publicize police killings of black women. Some say it takes away the magnitude of her death. Others assert that her name's omission is another attempt at erasing Abdus-Salaam since she was a black woman and a Muslim. 
A venerable leader in the court, Abdus-Salaam frequently sided with marginalized parties against powerful established parties and wealthy corporate interests, the New York Times reported. In the wake of her death, Cuomo described her as "a trailblazing jurist whose life in public service was in pursuit of a more fair and more just New York for all." 
She served as a symbol of hope and possibilities for black people and Muslims seeking their own paths into law. She took pride in it, too.
"Who knew that we would both attain such high positions, and that you would be the first black United States attorney general, and I would be the first black woman on the New York Court of Appeals?" she reportedly told Holder, the country's first black attorney general, at her swearing-in ceremony.
Sheila Abdus-Salaam is her name. It's time for all of us to say it.