Harry Styles' Self-titled Album: Release date, track list and more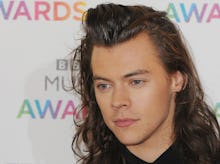 Harry Styles is ready to make his mark as a solo artist. After releasing his first single "Sign of the Times" Friday, the One Direction member announced on Twitter that the due date for his self-titled debut will be May 12. 
Styles also shared the album's cover art and track list on Twitter Thursday morning. Here is a breakdown of all we know about the forthcoming opus Harry.Styles.
Album cover
Styles takes a mysterious approach in his album art. His back faces the camera as he sits in a body of pink water. This is similar to the direction for his cover art of "Sign of the Times" in which the singer's back faces the camera against a red backdrop. 
Background
Since March 2016, Styles and his One Direction bandmates have been on an indefinite hiatus to focus on their own endeavors. In June, Styles went right to work after he signed a solo record deal with Columbia Records. He told BBC Radio One that he wrote and recorded many of the songs for the album while visiting Jamaica. 
Styles told the Radio One Breakfast Show, "I just wanted to not be somewhere that I'd get distracted. It was 360 of writing, you'd go home for dinner, write at the house then go back to the studio. I liked being away from everything and doing it like that," according to the Sydney Morning Herald.
He also asked fellow British sensation Ed Sheeran to give him feedback on the album, the Evening Standard reported.
"I played him a few songs after the album was finished. He didn't say he didn't like any, but he did like one song that isn't on the album," he said.
Track list 
Below is the track list for Harry.Styles.  
1. Meet Me in the Hallway
Now that Styles is on his way with his first solo project, it'll be interesting to see how the other One Direction members shape their own sounds in the months to come.
Mic has ongoing Harry Styles coverage. Please follow our Harry Styles hub here.