'Real Housewives of Beverly Hills' star Kim Richards reveals she dated Donald Trump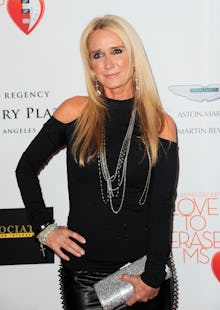 Kim Richards is having a big week. 
As season seven of the Real Housewives of Beverly Hills reunion is underway, it's been revealed  Richards once dated President Donald Trump. 
In a preview for part two of the RHOBH reunion, host Andy Cohen spills some tea when he asks if it's true Richards went out with Trump. "One thing I have to ask you before we get on to everything that happened this season. I heard a rumor that you once dated Donald Trump," he says.
Richards confirms they once dated, but is hesitant to talk about it. "Let's not get into it," the housewife says. "I had dinner with him. I had dinner with Donald." Fellow housewife Lisa Vanderpump teases Richards, asking her if she saw him naked and whether the two had sex. 
Although Richards isn't looking to discuss her past relationship with the president, she is looking to continue her war with Lisa Rinna. In another preview for the reunion, Richards returns the stuffed bunny Rinna had gifted to her for her grandson. 
"I brought the bunny because I never gave it to my grandson," Richards tells Rinna before returning the gift. "It didn't feel like it had good energy. When you are in a better place, maybe you could give it back to me."
Rinna's single tear says it all:
It looks like the second half of the Real Housewives of Beverly Hills reunion belongs to Richards. 
You can watch the Real Housewives of Beverly Hills on Tuesdays at 9 p.m. Eastern on Bravo. 
Mic has ongoing Real Housewives coverage. Please follow our main Real Housewives hub here.