Trump's foreign policy positions are erratic — and so are the American public's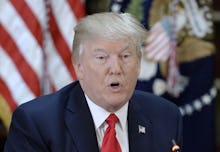 President Donald Trump continues to rapidly reverse himself on every single foreign policy position he took during the presidential campaign. In the past two weeks, he has radically changed his entire policy on Syria. Where he once openly praised Syrian strongman Bashar Assad for fighting the Islamic State group and vowed to work with Russia in the region to fight ISIS, his administration has now attacked a Syrian airbase and is taking every possible position imaginable on whether Assad can stay and what the necessary conditions are for attacking his regime.
And that's not the only inconsistency. Trump is simultaneously taking multiple positions on basically every other foreign policy commitment he made during the campaign. After blasting NATO on the campaign trail and calling it "obsolete," Trump said Wednesday in a joint press conference with NATO Secretary General Jens Stoltenberg, "I said it was obsolete. It's no longer obsolete." And just like that, Team Trump is onboard with NATO.
Then in an interview with the Wall Street Journal, Trump reversed another one of his signature campaign foreign policy positions: promising to label China a currency manipulator. After meeting with the Chinese President Xi Jinping last weekend, Trump decided against it. "China hasn't been manipulating its currency for months and because taking the step now could jeopardize his talks with Beijing on confronting the threat of North Korea," the Journal wrote.
With all these foreign policy reversals in such short order, you might think Trump voters would be wringing their hands. It turns out the American people's foreign policy is just as fickle as Trump's.
Poll after poll found that a majority of Americans supported Trump's airstrike in Syria. By contrast, when then-President Barack Obama supported the same action in 2013, a majority of Americans opposed it, and that was largely due to overwhelming opposition from Republicans. According to a CBS News/New York Times poll taken in September 2013, 77% of Republicans opposed the strike at the time compared with 35% of Democrats.
Part of the reason that Republican support for the strike was so low was probably because, at the time, high-profile Republicans like Trump were inveighing against it, saying that lawmakers should focus on the United States instead. As goes Trump, so goes the Republican Party.
Highlights
Today: Trump signs a joint resolution allowing states to block funds to Planned Parenthood
More: Town hall meetings are happening across the country as Congress continues its break — and Republicans are taking a beating from constituents
Even more: Trump will meet with first responders from the I-85 bridge collapse in Atlanta on March 30
Trump's schedule: After his signing and meeting, Trump will head to Mar-a-Lago for the weekend. If he decides to play golf on Friday, he can keep up this new presidential tradition.
Trump continues to throw Steve Bannon under the bus
For the second time in just a week, Trump has downplayed his relationship with senior political adviser Steve Bannon. In an interview with the New York Post earlier this week, Trump referred to Bannon as someone "not involved in my campaign until very late." In his latest interview with the Wall Street Journal, Trump has further demoted Bannon to simply "a guy who works for me." A previous report claims Bannon recently threatened to leave the Trump administration, but was convinced he should stay by GOP megadonor Rebekah Mercer. Given the pace at which the relationship appears to be deteriorating, keep an eye out for Bannon to make the next move.
Bonus: Axios reported that, amid all the turmoil and factionalism in the White House, some of Bannon's partisans have taken to calling Trump economic adviser Gary Cohn "Globalist Gary." The Daily Beast previously reported that Bannon referred to Trump's son-in-law Jared Kushner as a "globalist" — I'll just leave it at that.
Trump threatens to take health care subsidies away from millions
In the Wall Street Journal interview, Trump also suggested that his administration might not fund the health care subsidies that the Affordable Care Act uses to help people in the individual health insurance market afford care. He told the Journal that Congress may not approve the payments in order to bring Democrats to the negotiating table, but also that the possibility of not paying insurance companies is a reason he might "go the other way."
The Manafort story just can't get any less shady
In the same week that news broke that Paul Manafort and his former lobbying firm were both retroactively registering as foreign agents and the Associated Press confirmed that Manafort received off-the-books payments from the Vladimir Putin-backed former government of Ukraine, the New York Times has a new report out about Manafort's mysterious post-Trump campaign financial dealings. According to the Times, Manafort borrowed millions of dollars in loans from businesses associated with both Ukrainian billionaires and the Trump campaign. With Manafort set to testify before Congress in the coming days, get ready for even more shoes to drop as he attempts to get his affairs in order.
Bonus: Trump says he didn't know Manafort until the campaign — he did.
News and insight you cannot miss:
A North Carolina legislator thinks Abraham Lincoln and Adolf Hitler were basically the same person (Mic) — and no, he wasn't talking about this
The competitiveness of the Kansas special election is heartening Democrats despite the loss, yet they're still fighting over what went wrong (Mic)
Trump is ramping up his immigration deportation force (Mic)
A member of Congress told angry constituents the idea that they pay his salary is "bullcrap" (McClatchy)
At another contentious town hall, a GOP representative said White House press secretary Sean Spicer "needs to go" because of his Holocaust gaffe (Mic)