This TV anchor just trolled the 'Daily Mail' after getting "busted" for repeating outfits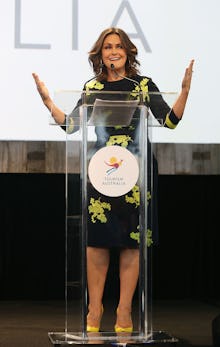 A hero has been born. Her name is Lisa Wilkinson, she is a TV anchor in Australia and she is having none of the Daily Mail's sexist coverage of what she wears on her show. 
You see, on Tuesday, the Daily Mail wrote an article calling out Wilkinson for wearing the same blouse, a burgundy one with white flower accents, four months apart on the show Today in Australia. 
The seriously real headline reads: "That's thrifty! Today show's Lisa Wilkinson sports same floral blouse, just four months apart, while hosting breakfast program." 
Wilkinson is having fucking none of it. After the article was published, she tweeted out: "I am sooo busted! Seems I've been seen hosting breakfast TV wearing same blouse with "strategic cutout above the bust" just four months apart!!!" 
And then she wrote an entire article for the Huffington Post about it, jokingly thanking the Daily Mail for its fashion criticism. 
"I did something incredibly brave today," she wrote. "In fact, I did something that has never been done before by a female presenter in the history of TV news broadcasting — at any news desk, in any studio, anywhere in the western world." She continued:
It didn't involve a live cross to Bashar al-Assad in the Syrian war zone. Or an exclusive interview with Donald Trump on Air Force One. I didn't manage to make Sean Spicer sound good. It wasn't a journalistic scoop, or even a hard-hitting editorial.
Shocking, we know — and she knows. 
She goes on, writing about the Daily Mail article itself: " You're thinking I should be up in arms. ... Well, I'm not. In fact, today I am thanking the Daily Mail for proving once and for all what we know to be true. You see, I'm the gal that sits next to the guy who wore exactly the same suit on air every weekday for a whole year. Every single day." 
What Wilkinson is talking about here, with her colleague wearing the same suit for a year, is actually completely true. He did. Did anyone notice? Nah. 
"No one noticed," Wilkinson wrote. "But let a woman try that on... TWICE? Not on your Nelly! Meanwhile, in Syria..." 
Just like that a hero is born, a woman so heroic that she's willing to stand up for not just herself but female newscasters everywhere who are, despite it not mattering at all, highly scrutinized for their attire. 
It's really nothing new. In May, a meteorologist was told to cover up live on air and given a sweater. In September, a columnist wrote an entire column over a news anchor's skinny jeans. And now here is our hero Lisa Wilkinson, getting a column because she dared to wear the same thing twice. 
But don't think Wilkinson isn't totally getting the last laugh in all of this. On Wednesday, Today posted an Instagram of two other anchors wearing Wilkinson's now-infamous maroon shirt. 
"Love a top you can get a few wears from!" the caption read.
As do we. As do we.