'Payday 2' Nintendo Switch Release Plans: Bank robbery game port announced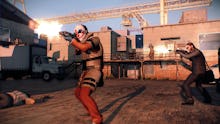 Pick up your neon Joy-Cons and get ready to case the joint, as the preeminent multiplayer bank robbery simulator is coming to Nintendo Switch. If you've been looking for an online co-op game to play on your shiny new Nintendo console, you won't have to wait much longer.
Payday 2 coming to Switch
Announced during this week's Nintendo Direct, the Switch version of the 2013 first-person shooter will launch this winter. 
In Payday 2, you team up with players and complete a huge list of elaborate heists, from normal bank robberies to smashing up a mall. You'll need to use teamwork to locate entrances and exits, sneak past security, secure the target and escape police pursuit. Missions can be completed with stealth, but you can just go in guns blazing, if you prefer.
It's not clear yet if the Switch version will have any new or exclusive content, but Starbreeze has been steadily adding new masks, characters and heists to the game for the past four years. You can even play as John Wick. 
There isn't a Switch release date yet, but it's supposed to come out this year. If you missed Payday 2 the first time around, this is an opportunity to try it out.
Check out more Nintendo Switch news and coverage
Looking for more Nintendo Switch news? Check out how blind gamers are using the Nintendo Switch. Nintendo's left Joy-Con issue turns out to be a hardware problem — find out how to solve it. Find out how to buy a console amid the recent restock. Learn why the Switch cartridges taste so bad. Check out our comparison photos sizing up the Switch to the Wii U GamePad (part one and part two), or find out how to make use of ethernet without the dock and the best way to get alerts when new stock arrives.