Mar-a-lago has 13 health violations — and Trump's other restaurants have issues, too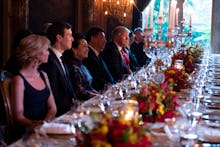 It turns out that President Donald Trump's restaurant at Mar-a-Lago — where he has hosted world leaders including Japanese Prime Minister Shinzo Abe and Chinese President Xi Jinping — has a dangerously gross kitchen. And it's not even the only Trump property with recorded health violations.
On Wednesday, the Miami Herald reported that, during their January visit to the Mar-a-Lago club's kitchen, Florida inspectors found a total of 13 violations. 
The kitchen still passed the inspection, according to the Herald, inspectors determined that it met the "minimum standards" for operation, but three of the 13 health violations were designated "high priority," which means that they could potentially expose the club's diners to dangerous bacteria if not corrected.
Inspectors found that in two coolers, raw meats that should have been around 41 degrees were being stored at dangerously high temperatures. The raw chicken was 49 degrees, the duck and beef were 50 degrees and the ham was a toasty 57 degrees. 
The inspectors also recorded that fish that was to be served raw or undercooked hadn't been properly treated for parasites, the Herald reported. Inspectors reportedly recommended that the fish be either cooked immediately or discarded.
Other minor violations included rusty shelves inside walk-in coolers and too-cold water at the sink where kitchen staff was supposed to wash their hands. 
Thirteen violations is a record for the Mar-a-Lago kitchen, the Herald reported.
There are other Trump properties with cleanliness issues. According to the New York City Department of Health and Mental Hygiene, the Trump SoHo's main kitchen showed evidence of mice at its latest inspection in March, although it still earned a "A" score from the city.
The Trump Bar in Manhattan also earned a "A" but was given a critical violation for not thoroughly washing surfaces after they had been contaminated, and the kitchen at the Trump Golf Links at Ferry Point in the Bronx was cited for storing cold food at temperatures above 41 degrees. 
Citations like this are not uncommon, even at elite restaurants in New York City. Per Se, where guests spend an average of $851 a person, was also cited for keeping food above 41 degrees at its latest health inspection. But the latest health violations at Mar-a-Lago don't exactly make dinner at the pricey club seem appetizing. 
When Chinese President Xi Jinping dined at Mar-a-Lago in April, the menu reportedly featured a choice between strip steak and Dover sole — considering the citation for raw beef stored at high temperatures, the fish might have been a safer bet. Better yet, just stick to the chocolate cake.