A new bill would let domestic violence victims track their abusers with a GPS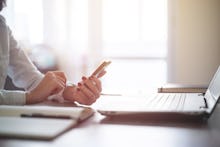 Lawmakers in Maryland just passed House Bill 1163, legislation that would require suspected domestic abusers to wear GPS tracking devices. 
The tracking devices would link up to victims' phones, sending an alert and contacting the police if their abuser comes within a certain distance of them.
The bill also goes by "Amber's Law," named for 36-year-old Amber Schinault, who was killed by her ex-boyfriend Andrew Kugler in 2012, according to NBC. Schinault had obtained an order of protection against Kugler just a month before her death, following a heated dispute. Kugler was sentenced to life in prison in November 2014.
"Amber and her family did everything that they were supposed to do," Del. Aruna Miller, one of the bill's sponsors, told WBAL-TV in March. "They got a protective order. They changed the locks on their home. They sat outside of their home keeping careful vigilance and, in fact, the police department was right around the corner from their home. Despite all of this, on July 22, 2012, Amber Schinault was brutally murdered by her attacker."
Angela Zarcone, Schinault's mother, said the GPS tracker could take control away from abusers and give it back to victims.
"She can go about living her life and would know if the perpetrator became close to her, she has time to take care of her situation," she told NBC. "I feel like it's the birth of my first grandchild. It's Amber's legacy."
Gov. Larry Hogan is expected to either sign off on the legislation or allow it to pass into law without his signature, according to local news station WJLA.
Either way, local legislators are counting it a victory for domestic violence victims.
Prince George County Councilman Mel Franklin said in a statement that the legislation was unanimously endorsed by the full council: "The passage of Amber's Law is an amazing triumph for survivors of domestic violence and will save countless lives by strengthening protections against domestic violence abusers."