'Pokémon Go' Easter Event: "Eggstravaganza" update promises double X, candies from eggs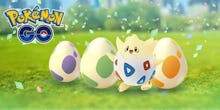 Although it seemed like Pokémon Go might let Easter pass without an event, it appears Niantic was just playing its cards close to the chest. Much like with the Water Festival event, the company behind Pokémon Go announced that starting Thursday, April 13, we'd be treated to a weeklong Eggstravaganza, thus validating the guesses of almost everyone who posted about an Easter event on the Silph Road or elsewhere online.
Read on for more information about the upcoming Pokémon Go Easter event.
Pokémon Go Easter event: What to expect from the update
The event was announced on Twitter early in the day on April 13, with a picture of a jubilant-looking Togepi standing among three eggs.
The Pokémon website had a little more information about what this Eggstravaganza would encompass:
A greater variety of Pokémon can now be found in 2 km Eggs. And when any of your precious Eggs hatches, you'll be rewarded with more Candy. Plus, Lucky Eggs will be 50% off in the in-game shop. You'll also earn double XP for all activities during this time.
More candy for hatching eggs, double XP and more Pokémon hatching out of 2km eggs? Sign us up. It seems like this event is the perfect time to start leveling up your trainer if you've been stuck in the doldrums of the mid-20s for a long time like us, or if you're looking to beef up an already strong Pokémon's CP rating. 
Unfortunately, it doesn't look like the event has officially kicked off yet. We know it goes from April 13 to April 20, but neither the Pokémon Go Twitter account nor the official press release has any information. If it follows the same pattern as the Water Festival, the start time should be around 4 p.m. Eastern, but without more information it's tough to say.
Keep your eyes peeled for more updates if you can, and make sure you save up those 2km eggs in the meantime until the event officially starts.
More Pokémon Go guides, tips and tricks
If you're booting up the game for the first time in a while to get ready for Gen 2, be sure to check out Mic's guides on how to get stardust, how to determine how long it will take you to reach level 40, the kind of Pokémon you get from 10-kilometer eggs, how to create new PokéStops, how to maximize your chances of catching Pokémon and how PokéStops distribute Pokémon eggs. Also check out how to catch Gen 2 baby Pokémon, our analysis of post-balance update Chansey and Rhydon and everything you need to know about finding the long-awaited Pokémon Ditto.