'Persona 5' Fortune Confidant: Get all the answers to max relationship with Chihaya Mifune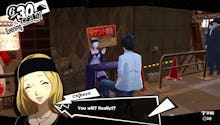 In Persona 5, you come to know a large cast of characters. Some of them you meet while just playing through the game, while others are actually optional and you risk never meeting them. 
The Fortune confidant, for example, is entirely optional and it's possible that you won't build that bond. If you're looking for good fortune, then let's help you find Chihaya Mifune, the Fortune confidant.
Getting to know the Fortune confidant in Persona 5
Chihaya is a confidant that becomes accessible around the third main arc of the story. As part of the main mission leading up to the third palace, you'll be forced to go to a new neighborhood, Shinjuku, where you'll meet Chihaya for the first time. 
She is one of the harder confidants to start a relationship with, but once you do, her skills can be pretty rewarding. Once you talk to her the first time, you just need to ask her to read your fortune. 
The second time you speak to her, you're going to need to purchase a Holy Stone for ¥100,000 — better start saving now. The third time you speak with her, you'll be given a Mementos mission titled, "Ending the Boyfriend's Abuse." Only when you've completed that mission will you get rank 1 of the Fortune confidant. 
Luckily, even the starting skill is pretty awesome: Chihaya will temporarily boost social stat gains. So if you're interested in becoming more charming, gutsy or kind, this skill will come in handy.
After that, her relationship is built through the regular conversations.
More Persona 5 news, updates, tips and tricks
For more on the latest entry in the Persona series, check out the rest of what Mic has to offer. Here's a guide on how to capture Personas, and here's one on building relationships with the game's Confidant system. Here are some tips on beating the first boss and the second boss. Finally, here are the answers on some of the crossword puzzles.