Who is Jean-Luc Mélenchon, the far-left French politician currently surging in the polls?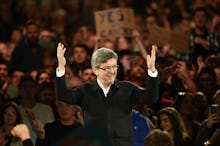 Jean-Luc Mélenchon — a French, leftist politician who's been likened to Bernie Sanders — is surging in the polls, shaking up the country's presidential election just ahead of the first round of voting.
Mélenchon — running under the banner of his communist-backed "France Unbowed" party — has risen to 19% in recent polls, nearly evening him with the presidential frontrunners.
The uncertainty that has marked this presidential race has not waned in the final stretch of the election. With voters set to cast their ballots in the first stage of the election April 23, four candidates — Mélenchon, the National Front's Marine Le Pen, conservative François Fillon and centrist Emmanuel Macron — all have the potential to win a decisive May 7 run-off.
Le Pen — who leads the polls with 23.5% — would likely move France far to the right if elected, embracing the hardline immigration and anti-crime policies, fierce populism and protectionist economics that President Donald Trump has worked to enact in the United States.
But Mélenchon's rise signals that French voters may be open to far-left ideas after years of double-digit unemployment, Time reports. 
Here's what you need to know about Jean-Luc Mélenchon.
He's a veteran of leftist politics
Mélenchon, at 65, is the oldest candidate in France's presidential race. 
After three decades in socialist politics, he quit the party in 2008 and formed his own movement.
He first ran for president in 2012 — also against the far-right Le Pen, who lost to François Hollande but picked up 17.9% of the vote that year in a statement for the National Front.
Mélenchon underperformed in that contest, but has surged this time around on the strength of his debate performances, his populist message and his skilled oratory.
Voters have a choice other than the far-right "condemning our great multi-colored people to hate itself" and fans of the free market that "transforms suffering, misery and abandonment into gold and money," Mélenchon told a crowd at a recent campaign event, according to the Guardian.
"I'm not asking you to love me – I'm asking you to support me, because it's in France's interest," he said.
He's "far more radical than Bernie Sanders"
While Le Pen's populist nationalism has earned her comparisons to Trump, Mélenchon's left-wing vision and insurgent appeal has led some to liken him to Sen. Bernie Sanders, who waged his own populist presidential campaign in the U.S. in 2016.
"It is the same situation as it was in the U.S. with Bernie Sanders," Nicolas Bonnet Oulaldj, a Communist Party delegate to Paris's city council, told Time. "There is a return across the world to people questioning how politics is being influenced by money."
But, Time notes, Mélenchon is "far more radical than Bernie Sanders" — supporting taxing incomes above €400,000 at 100 percent, hiking public spending and cutting the workweek to 32 hours per week, as well as withdrawing France from NATO and adopting a pacifist foreign policy.
He also defends immigration — a contrast with his rival, Le Pen — and supports the legalization of marijuana.
"I'm the candidate for peace," he said at a recent rally. "Today as yesterday, I am delighted that France is a mix of races and all the children are our children."
It's hard to say what the election holds — but he has a shot
The 2017 French election is seen as one of the country's most unpredictable in recent history. 
Mélenchon is one of four candidates who could pull off a victory in the two-part election.
As of Thursday, Mélenchon was tied in polling with Fillon at 19%. Macron had 22.5% and Le Pen had 23.5%.
It's unclear if Mélenchon's momentum will carry him through the first round of voting.
"Last time, Mélenchon was also rising steadily in the polls in the run-up to the elections simply because he's a great orator, simple, straightforward, funny, and has flair and a certain panache," French political expert Agnes Poirier told CNN. "However, I doubt he'll get through ahead of Macron and Fillon," Poirier added. "But, as they say, after Brexit and Trump, who knows?"