Trump called '60 Minutes' executive producer to ask if he broke ratings records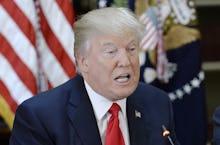 President Donald Trump is notoriously obsessed with his television ratings — even going so far as to frame pictures of the ratings of his once-hit reality show The Apprentice and force White House press secretary Sean Spicer to inflate his inauguration ratings.
A new report out Thursday shows Trump was also preoccupied with the ratings of his 60 Minutes post-election interview. In the middle of putting together his presidential administration — a task he still hasn't completed — Trump took time to call the show's executive producer and ask if the interview broke ratings records.
"He called me after the interview to ask if he had broken any ratings records," 60 Minutes executive producer Jeff Fager told the Hollywood Reporter for its article on the "35 most powerful people in New York media."
Sadly for Trump, the ratings for his 60 Minutes interview weren't record-setting. The 18.8 million viewers who watched Trump's post-election interview was about 24% less than the 24.5 million people who watched former President Barack Obama's first post-election interview in 2008, according to the Hollywood Reporter.