In one quote, Zeke Smith had the best response to being outed as trans on 'Survivor'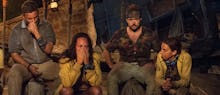 During episode six of Survivor: Game Changers on Wednesday, cast member Zeke Smith was outed as transgender by a fellow tribe member. 
It was a shocking moment to watch as Jeff Varner, who was on the verge of getting his torch snuffed, attempted to sway votes to Smith by telling the other Nuku members there was "deception going on."
"Deception on levels that you guys don't even understand. There's more," Varner said before turning to Smith. "Why haven't you told anyone that you're transgender?"
Smith froze and sat in silence as he processed being outed by someone he considered a friend and whom he helped earlier in the episode. But his tribemates did not sit in silence. Tai Trang, Andrea Boehlke and Sarah Lacina immediately came to Smith's defense, rightfully calling out Varner for his malicious actions. 
"There are people who know," Smith said after the initial shock wore off. "But then it got to a point where I stopped telling people. [Being trans] sort of overwhelms everything they know about you ... I didn't want to be the trans Survivor player. I wanted to be Zeke, the Survivor player."
Following the sixth episode's tribal council, the Hollywood Reporter published a guest column from Smith. In the article, the Survivor contestant wrote about the struggles of being trans, his journey to the CBS reality series and the moment when Varner outed him on national television. While it was a tough event to process, Smith has the best response to be outed as trans.
I told myself, 'Dude, you resolved to never stop playing. Buck up and make this OK.'
It's a powerful testament to who Smith is as a person — someone who's strong and not willing to be defeated. He admitted he wanted to run when Varner targeted him, but instead took the time to compose the perfect response to the man who just changed his life.
"I don't believe Varner hates trans people, just as I don't believe conservative politicians who attack trans people actually care where we use the bathroom," Smith continued. "For both, trans people make easy targets for those looking to invoke prejudice in order to win votes."
Thankfully, my tribemates rebuffed his hateful tactics. After 18 days starving and competing with me, they knew exactly the man I am, and after that Tribal Council, we all knew exactly the man Varner is.
Mic has ongoing Survivor coverage. Read a reaction piece from Smith's friend and Survivor: Millennials vs. Gen X cast member Hannah Shapiro, check out our recap of Game Changers' episode six tribal council and see how Twitter reacted to Varner's attack. Follow our main Survivor hub here.