Standalone Switch Dock: Nintendo charges $60 for half of what the dock needs to work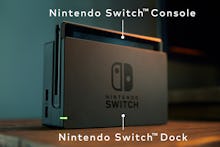 Nintendo Switch stock continues to fluctuate — sometimes stores like Toys R Us and Best Buy have supply, and sometimes buyers can only purchase the console in expensive bundles. If you already have your console, however, you may be interested in buying a second Nintendo Switch dock to play on the television in another room. If lifting the dock and its two attached cables from one room to the other proves too cumbersome, this option is for you!
But don't expect to spend a small amount of money on Nintendo's plastic rectangle. Here's what you can plan to buy and when you can buy it.
Standalone Switch Dock: $60 for the dock, no AC adapter nor HDMI cable
Nintendo previously made available the dock to purchase separately back when the Switch first came out. Our second glimpse of the new dock option came during the April 2017 Nintendo Direct, which brought Splatoon 2 details, new amiibo and more. It also introduced a new accessory option: a Switch dock you can buy separately from the one included with the console coming May 19. What's included: the dock — and nothing else. Neither an AC adapter, nor an HDMI cable comes with the dock.
"What's the big deal," you're probably wondering, "If the Switch has a charge it can probably power the dock." False. You need to plug the dock in before it can shoot over video from the Switch to your television. Unplugging the Switch dock while in use will instantly remove the picture from the screen and put visuals back onto Switch display.
"Well at least the HDMI cable isn't a huge deal," you probably justify to yourself, "I have plenty of those lying around." Likely true, but the whole point of the dock is that it lets you play your Switch on your TV. It's at least a little weird that it comes with none of the proper cables that let you do that. 
The AC adapter (needed to use the dock) can be purchased for $29.99. Nintendo sells HDMI cables for less than $8.
Standalone Switch Dock: Didn't they solve the dock scratching though?
A spare Nintendo Switch dock is undoubtedly useful (when coupled with the proper cables that don't make it useless plastic). Nintendo announced limited quantities of their console but did not address the defective shape of the dock. The Switch docks are hard plastic on the outside as well as inside. Also, some docks are at a more acute angle than others. All this means some Switch users have experienced scratched screens from repeatedly putting in and taking out their Switch from the dock. 
Check out more Nintendo Switch news and coverage
Looking for more Nintendo Switch news? Check out how blind gamers are using the Nintendo Switch. Nintendo's left Joy-Con issue turns out to be a hardware problem — find out how to solve it. Find out how to buy a console amidst the recent restock. Learn why the Switch cartridges taste so bad. Check out our comparison photos sizing up the Switch to the Wii U GamePad (part one and part two), or find out how to make use of ethernet without the dock and the best way to get alerts when new stock arrives.