Mel B wins restraining order against Lorraine Gilles, her children's ex-nanny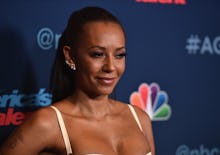 Melanie Brown — perhaps better known by her Spice Girls alias Mel B — has secured a restraining order against her children's former nanny, Lorraine Gilles, with whom her estranged, reportedly abusive husband, Stephen Belafonte, allegedly had an affair. 
After filing for divorce in March, Brown got a temporary restraining order against Belafonte on April 3. The X Factor host said that Belafonte beat her and promised to ruin her life if she left him. He reportedly coerced Brown into threesomes with random women and videotaped the encounters for future use as blackmail. 
"I desperately wanted to leave the relationship and tried to do so during our first year of marriage and every year thereafter," Brown reportedly said in court papers. "When I threatened to leave, [Belafonte] informed me he has videos of our sex life and other private moments. [He] would threaten that if I left, he would release the videos to the tabloids. I have lived the past decade in fear that [he] would release intimate videos of me that would embarrass me and damage my reputation and my career."
According to E! News, Belafonte also got Gilles pregnant — and used Brown's money to pay for her abortion. As Entertainment Tonight reported, a judge ruled Tuesday that Gilles must cease any harassment of Brown and stay 100 yards away from her. 
The order also allows Brown access to a storage locker she believes holds the sex tapes and intimate photos with which Belafonte has been using to extort her, along with Spice Girls paraphernalia and photos of Brown's recently deceased father.
According to E!, Belafonte once leveraged the tapes to save Gilles' job. In January 2015, when Brown wanted to fire the nanny, Belafonte threatened to release the footage if Brown didn't keep Gilles on and give her a raise. Gilles — whose name is on the locker rental contract — was reportedly complicit in that scheme: Per Tuesday's order, she cannot disturb the locker's contents before Brown searches it. 
Belafonte and Gilles have both denied Brown's claims, although this is not the first time Belafonte has been accused of violence: According to E!, Brown missed a day of work on the X Factor after an emergency hospital visit. When she showed up the next day, she had bruises on her face and body, prompting speculation of domestic abuse. 
Still, Belafonte insisted the claims are unfounded. In a statement to E!, he said the "entire charade was nothing more than a smear campaign" engineered to help Brown win a custody battle. "Mr. Belafonte is confident that the truth will come out when he has his day in court," the statement read.