'Overwatch' Uprising skins look like they came straight from Britney Spears' "Toxic" video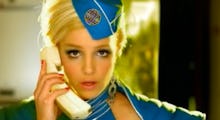 Blizzard Entertainment better be lawyered up, because Britney Spears is sure to be on the phone very soon — that is, once she finishes the final touches on her son's Lord Frieza costume — because the new Overwatch Uprising skins look like they were ripped straight from the set of her 2003 "Toxic" music video.
Don't believe us?
Look, we would never directly accuse Blizzard of theft. It's all probably just a very convenient coincidence. But, then again:
Actually — wait, yes — we're now hearing reports that Spears has in fact filed a lawsuit against Blizzard Entertainment. Let's cut to the live feed in the court room:
Your move, Blizzard.
More Overwatch news and updates
For more on Overwatch, check out the rest of what Mic has to offer. Here is a full explanation of the different types of health in Overwatch, the latest rumor of a Terry Crews-voiced Overwatch character, an update on that Mei ice wall exploit, a hilarious video of a play of the game involving the jump pad on Oasis, a roundup of the best Overwatch plays of the week, our definitive ranking of every Overwatch hero and a giant Overwatch FAQ for beginners.